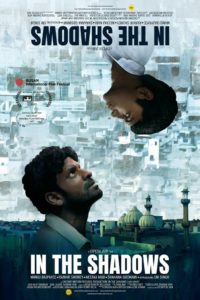 From the moment we see Khuddoos (Manoj Bajpayee in yet another moving and masterful performance), an Old Delhi shopkeeper, we know that this is a man with his own demons, his eyes wary and watchful as he views closed circuit camera footage, his fingers flicking switches that allow him to see what's happening in his neighbourhood, from cameras that he has jerry-rigged with his skills as a local repairman. When his only friend, Ganeshi (Ranvir Shorey) arrives, we learn that Khuddoos hasn't left his home in five days, not going to his shop. He's upset at the footage he's seen of a woman kissing a man who is not her husband, while her husband and children eat dinner next door. Khuddoos insists on showing Ganeshi the footage, distressed at the thought that this woman might be doing something that will eventually harm her children.
Ganeshi urges his friend to leave the monitors, to eat something – this, we will learn, is Ganeshi's role, to watch over his friend, to make sure he's eating, to give him money, to make sure he's working, to encourage him to get out of the house and get some fresh air, to take him to a doctor when it becomes apparent that Khuddoos hasn't been looking after himself at all.
This friendship is paralleled by another one in the neighbourhood – that of Idris (Om Singh), affectionately known as Idu, and his friend Ginny (Arbaaz Khan), who wander Old Delhi's laneways, Ginny getting Idu to help him with his homework, going to watch movies together, peeping into other people's homes. When Idu's butcher father Liakat (Neeraj Kabi) violently beats his son, Ginny is concerned for him, wanting him to agree to let him tell his own parents what is going on, trying in vain to cheer him up a little. Idu tells him that he hates his home, and needs to find a way out.
Khuddoos's younger brother Shaukat (Ashwath Bhatt) suddenly turns up at the shop one day after twenty-three years of estrangement, and although he begins by asking Khuddoos how he is, his perfunctory interest is only a pretense for Khuddoos to find a necklace belonging to their mother, that Shaukat wants to give to his eldest daughter who is about to get married. Khuddoos claims not to have seen the necklace, but goes searching for it in one of the rooms that we realize was once his family home, things stored away and covered in years of dust. It's then that Khuddoos hears sounds from the other side of the wall: he's hearing the beating that Liakat is inflicting on Idu, when Idu and his mother are caught out in a lie about a customer's payments.
Khuddoos becomes distraught at what he hears, and decides he must do something to help the boy. He becomes frustrated that none of the cameras he's installed around his home have captured anything, even as he points out to Ganeshi that all their homes are connected in the alleyways. Finding Idu and helping him becomes an obsession for Khuddoos, who sets up more cameras in the laneways to try to catch a glimpse of the boy. Khuddoos already had a slim grip on reality, but as he persists in his search for Idu, he slides further into anxiety and paranoia. Eventually, Khuddoos sees Idu and Ginny on his monitors one day, and rushes out to follow them – but when they exit the cramped lanes into the open streets in Delhi, Khuddoos comes to an abrupt halt – obviously, his paranoia and anxiety has him limited to the cramped laneways around his house, and he can't continue to follow them. Khuddoos is trapped in the laneways, just as Idu will come to feel that he is trapped by his father's violence, from which he will desperately try to escape. Kai Miedendorp's cinematography captures these emotions perfectly, the dim, cramped laneways of Old Delhi, with metal grating everywhere emphasizing the sense of anxiety and claustrophobia.
Writer and director Dipesh Jain delivers a taut psychological thriller that holds families and friendships at its core. We have two broken families, that of Idu, and that of Khuddoos; each of them has a loyal friend who looks out for them. They may be separated by the wall between their homes, but each of them knows – because they both spy on their neighbours – that the people in their neighbourhood have secrets. When Ganeshi takes Khuddoos to a doctor, concerned about his worsening condition, the doctor wonders why Khuddoos is so worried about this boy. Khuddoos responds that if he doesn't do something, no one else will – no one knows better than he does that his neighbours are selfish and would do nothing to help.
"There are no innocent bystanders," as the quote by William S. Burroughs tells us on a title card at the film's opening. Everyone in these laneways is complicit in the things that happens to those around them, though most won't take responsibility. Khuddoos, for all his flaws, at least wants to make a difference, to not be a bystander. Can he overcome a troubled past, shrouded in the shadows of these Old Delhi laneways he is trapped in, to help both Idu and himself to survive? Jain's story deftly reveals the truth, past and present, hidden in those shadows.