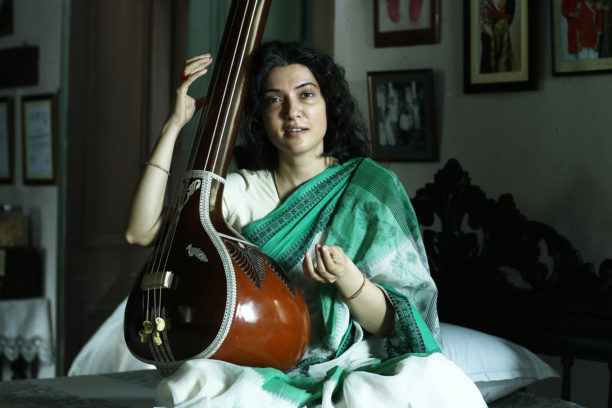 A recurring dream: a boy, holding his mother's hand, follows a procession. At some point, unaware as he watches what's going on, his hand slips out of hers, and he loses her. It's a dream that has some basis in reality for Indra, whose relationship with his mother became fractured in his childhood. Indra's father has died, and Indra (Anubhav Kanjilal) must return to Calcutta to take care of some property issues. We learn, through conversation with his live-in girlfriend, that the adult Indra is estranged, for the most part, from his mother Saathi (Arpita Chatterjee), not returning home very often, not calling his mother more than a couple of times a month. And even on this trip home, he makes the point of arriving very late – too late to eat the dinner his mother has prepared for him, too late to interact with her at all, wanting to keep contact with her to a bare minimum.
At first it's difficult for us to understand why Indra is so bitter towards his mother, why he makes a point of taking little digs at her, and reminding her how much he loved and admired his father. His mother seems quiet, subdued, perhaps even a little depressed (not surprising, as she finds herself alone after the death of her husband). But it's through Indra's flashbacks, his memories of his childhood, that we meet a different Saathi – a woman trying desperately to control her son, a woman who is bitter and angry at times – especially towards the man Indra calls Uncle Rudra (Adil Hussain) and most especially when she finds Indra engaged in behaviour that she deems "girly" and inappropriate.
The problem with memory, of course, is that it's incredibly fallible, and when coupled with the fact that as children, we don't always see everything that goes on in the lives of the adults around us – or, if we do, we don't understand, and don't make the connections that we might if we were older. What Indra is dealing with, then is a problem of perspective: he sees his mother from the perspective of the child he once was, with no understanding of her life apart from that as his mother – a mother he believes ruined his childhood. What Abyakto shows us, eventually, are the things that are left unsaid can cause deep, long-lasting wounds. Indra finally learns what the adults in his life – his father, mother and uncle – were going through, and it's knowledge that changes his perspective, at least, of his mother, allowing for the two to finally reconcile their differences.
Writer/director Arjunn Dutta gives us a meticulously crafted film, beautifully shot, with a mesmerizing background score, and compelling performances by actors even in the smallest roles. At the film's center, though, is a strong performance by Arpita Chatterjee as Saathi, and Dutta allows us to see Saathi's many sides, peeling back the layers of her bitterness and the choices it has her make for her son, allowing us to see other sides of her, sides that even her son, Indra, will grudgingly acknowledge, such as her beauty and her singing ability.
Nothing about Saathi is entirely black or white, and her personality and the choices she makes for her son are the product of a situation she, too, finds herself trapped in. Saathi, we learn by the film's end, has come to regret some of those choices, has had to learn different ways of understanding and dealing with the situation she finds herself in, and it's that, in part, that allows for her to reconnect with her son. Dutta chooses restraint and simplicity over melodrama to shape his film, and the result is a fine, delicate drawing of a strained mother-son relationship and its eventual redemption.
The Bagri Foundation London Film Festival celebrates a decade of bringing the best new South Asian films to the UK, with 5 cities, 25 venues and 25 specially curated films. It started on 20th June 2019 in London continues until 8th July 2019, at cinemas across the UK.