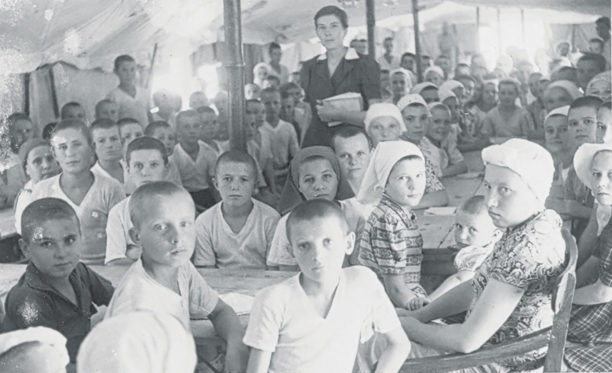 One of the pleasures of reviewing LIFF films over the last few years has been the opportunity to discover wonderful and surprising things that I've never known about, and this year is no exception. As I ran down the list of films I'd been sent to review, checking out which languages they were in, out popped one on the list, in English and – Polish?
Director Anjali Bhushan's film My Home India is featured in the "Extraordinary Lives" strand at this year's London Indian Film Festival, and the story she shares is, indeed, an extraordinary tale of war, refugees, and incredible kindness and humanity. During World War 2, many Poles – especially women and children – found themselves refugees in Soviet labour camps in Siberia, living in terrible conditions. A team from the Polish embassy in Bombay – led by Kira Banasinska, the wife of the first Polish Consul General to India — gained the support of a local Maharaja in order to send a convoy of food aid to help the starving refugees. The convoy, on its return trip, brought with it some of the Polish refugees, eventually settling them (and many more) in Valivade.
Most of the reading I've been doing about this period in India's history emphasizes the role of Maharaja Jam Saheb Digvijaysinhji and his involvement in the resettlement of the refugees. By no means should that contribution be diminished; however, My Home India offers us a glimpse into the efforts of Kira Banasinska in organizing the aid to and resettlement of Polish refugees in India. By all accounts, Kira Banasinska was a talented and fascinating woman, using her time in Japan (where her husband was posted) to study Japanese art and music. The couple were assigned to the consulate in Bombay in 1933, and during the war worked with the Polish Red Cross and people like the Maharaja to settle Polish refugees in Valivade.
Bhushan's film follows a group of those refugee children – now elderly adults– as they return to India to revisit the place they lived in, and share their memories of that time in their lives. Many of them left India to live in other parts of the world – England, Canada, Australia – but some stayed in India, eventually marrying Indians, and making their homes and their lives there. The film is also a testament to the life and work of Kira Banasinska – who, along with her husband, found themselves stateless after the end of the war, eventually taking up Indian citizenship and spending the rest of their lives in India. In an interesting aside, Kira Banasinska was also the founder of a company called KayBee School Manufacturing Equipment, which made educational toys specifically for Montessori Schools which used the method developed by Maria Montessori, the Italian educator who also spent the period of the war in India.
Anjali Bhushan's My Home India is a fascinating look at this period in world history, and has given me such an appetite to learn more. I'm so grateful for LIFF 2019 for giving me the chance to see this film – and if you're in London considering checking out some of the festival offerings, don't miss the opportunity to see it. My Home India is a timely reminder of the importance of kindness and generosity in a challenging world, and a testament to the work of Kira Banasinska.
My Home India screens in London on June 22nd, 25th, 27th and 28th. The Bagri Foundation London Film Festival celebrates a decade of bringing the best new South Asian films to the UK, with 5 cities, 25 venues and 25 specially curated films. It starts on 20th June 2019 in London continues until 8th July 2019, at cinemas across the UK. For more on the festival, please visit: http://londonindianfilmfestival.co.uk/