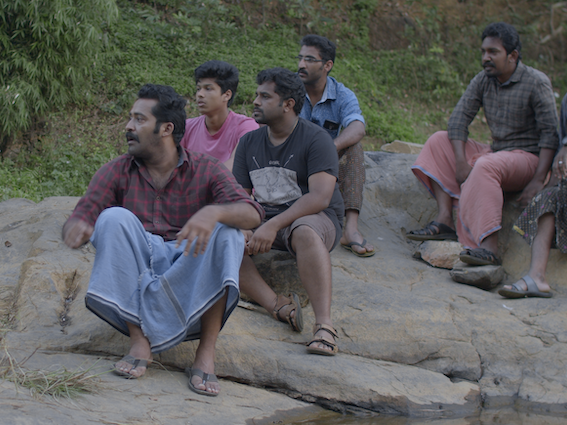 Paka ("River of Blood") dir. Nithin Lukose, 2021
A man is pulled from the Johnson River in Kerala's Wayanad district, in Kerala's mountainous Western Ghat region. At night, a group of young men sit around a fire, drinking, and pondering how the dead man got into the river. Murder, suggests one, but Johnny (Basil Paulose) says that couldn't be the case, because the only way it would be murder would be if the man were part of the two local families – Johnny's included – who, as we discover, have been part of a deeply rooted, long-standing feud. Think Montagues and Capulets, only set in Wayanad.
There is a ripple of tension in this scene, and in Johnny, who is planning to marry Anna (Vinitha Koshy), a young woman from the opposite family in the generations-long feud. Johnny and Anna publish their marriage banns – the formal announcement of an intention to marry, that allow for a time for others to put forward a reason why such a marriage might not take place. But the two hope that their banns will not be noticed, particularly by Anna's family, before the two can get married.
Their wish is thwarted, however, by the arrival of Johnny's uncle, Kocheppu (Jose Kizhakkan), released from jail after fifteen years for what he describes as a murder committed by accident. Kocheppu's return slowly begins to turn up the heat on the feud that has simmered below the surface. Kocheppu is, in fact, repentant. He has returned home with the hope that people will see that he paid the price for his crime, served his jail time, and only wishes to see Paachi and Johnny happy and settled. Kocheppu even visits the elder of the rival family, the blind Varkey, to tell him he has moved on and has no intention of continuing the feud. The men in Varkey's family, however, have no intention of stopping, and what follows is the almost inevitable return to violence.
Nithin Lukose's film is not the first Malayalam film to deal with the cycles of violence in communities and families, but his film differs in its approach. The film has a quality of oral storytelling that allows the narrative to slowly unfold, each act of violence splashing up like a bubble of water in a boiling pot. The men in these families are killing for the sake of it at this point – long forgotten is the seed that planted the cycle of revenge in them – forgotten by everyone except the ailing grandmother of Johnny's family, who goads her sons and grandsons to perpetuate a cycle that, as we discover, she's participated in herself.
Director/writer Nithin Lukose's debut feature is meticulously crafted at all levels. The sound design and background score weave together seamlessly to drive the film, giving it energy and accentuating important moments. Wayanad, in Kerala, is a beautiful location and has been used as the setting for a number of films, but Srikanth Kabothu's cinematography emphasizes both the region's natural beauty and makes it – especially the river around which the story is centered – almost another character in this tale.
But what drives the film for me is how rooted Lukose's story is in its Kerala environment, and how it makes a story that seems so very local appear so universal at the same time, something I find in the best of Malayalam films. Lukose also draws on the kind of "magic realism" that filmmakers like Lijo Jose Pellissery infuse in their films. I'm thinking mostly of a film like Amen, but I also see parallels to Pellissery's film Angamaly Diaries. In the same way that Pellissery roots his films in places like Kuttanad (Amen) and Angamaly (Angamaly Diaries), Lukose's Paka gives us a glimpse into Wayanad's Christian festivals (in a gloriously shot segment that stands out in an already beautiful film) with their rolling band concerts, of which Paachi and his teen-aged counterpart in the rival family are both participants. Lukose's film is so very rooted in the oral tradition of his grandmother's generation, which formed part of the inspiration for the film, and how it is structured, with the elderly grandmother (who is rarely seen but is mostly heard, emphasizing the oral nature of this tale) as the person who instigated the violence, and who reminds her family of this history in order to ensure they carry on this sad family tradition.
Beyond the parallels to other films, there are many parallels drawn within the story itself: the youngest members in each family both have great bikes (Paachi gets his when Kocheppu uses the money he earned in prison to buy it for him), and both play in competing bands. Johnny's return (after everyone thinks he's been killed by the other family) parallels that of his uncle's return after being in jail for fifteen years. Both of them walk past the same tea stall, and both times the radio is offering a commentary on a wrestling match featuring WWF star The Undertaker, known for the evolution of his wrestling persona over the years of his career. The feud is carried forward by subsequent family members and generations, but the core of their actions remains the same: the destruction of their opposition, and the revenge-fueled family tradition preserved through oral tradition.
The UK premiere of Paka ("River of Blood") is at the London Indian Film Festival on June 30th at Rich Mix. It is also screening in Birmingham on June 27th. To get tickets and to find out more, visit https://londonindianfilmfestival.co.uk/