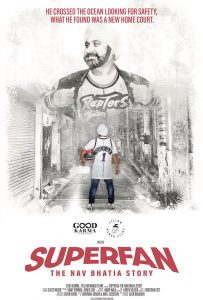 Let me start with a confession: I don't follow sports at all. I'm aware enough to know the story of the Toronto Raptors, though I've never been to a single basketball game. Nav Bhatia though fell in love with basketball in the 1990s, and when the NBA brought a team to Toronto in 1995, Bhatia bought tickets, and then never missed a home game until the pandemic brought his attendance streak to an end. He turned a passion for the game into an opportunity to share both his love for the sport and his pride in his Sikh heritage.
Bhatia's story is not unlike that of many immigrants to Canada. He and his wife, Arvinder, left India in 1984, in the wake of the anti-Sikh riots that followed the assassination of Indira Gandhi by her Sikh bodyguards. The Bhatia's life in Toronto may have been safer, but it wasn't problem free. An engineer by training, Nav Bhatia found it almost impossible to find work, eventually finding employment at a Hyundai dealership in Rexdale (a neighbourhood in the north-west of the GTA, home to many immigrants from many diverse countries and cultures. It's an area I know well, as it was my home for the first twenty years of my life). Excellence in his job eventually led to Bhatia becoming a manager of a dealership – which prompted all but one of his employees to resign, because they didn't want to work for – in Bhatia's words (and words I heard thrown at my own neighbours)—a "Paki". Bhatia heard that and much worse, and although it hurt, it also inspired him to become even more successful.
And it's true that Bhatia and his family now live a comfortable life. Bhatia is wealthy, has a fabulously large home, and the means to offer himself courtside tickets to any and every Raptors game. And he could have just sat back and enjoyed a game he loved, and enjoyed the fruits of his labour without bothering to think beyond that. Instead, Bhatia looked at his love for the Raptors as an opportunity to break down barriers, to allow people to learn more about the Sikh community in Canada, and to offer young Canadians from immigrant communities to see themselves represented in both the game and its fandom. Bhatia sees parallels between his story with its struggles and setbacks, and with the trajectory of his beloved basketball team.
Writer and director Amar Wala allows Bhatia and his family to share their story, but he also brings a range of voices – players, management, and broadcasters of colour who cite Nav as an important influence in their lives – that create a better picture of the Raptor's Superfan and the impact he's had not only on the franchise, but in his city and his community. "That guy is just like us. He has the same stories like us," offered Kayla Grey (Anchor Sportcentre). Nav Bhatia's stories touch those around him. His enthusiasm in infectious, making this documentary about him a joy to watch. Michael "Pinball" Clemons, a former Toronto Argonaut (in the Canadian Football League) player noted that, "The best seat in the house is sitting with Nav." I've never been to a basketball game before, but after watching Nav Bhatia's enthusiasm for the game, I can tell you that I'd gladly go to see the Raptors play if I could sit next to him. I bet it would be a fabulous experience to see the game through the eyes of the Superfan – and thanks to Amar Wala's documentary, we all can get a little glimpse of terrific that would be.