The prestigious London Indian Film Festival closed on Thursday 25 July with an exclusive UK screening of the critically acclaimed Bombay Talkies. Attending as one of the chief guests was Bollywood legend Mr Gulshan Grover, who is a huge supporter of the festival and was also invited to deliver a speech prior to the screening. BollySpice bring to you an exclusive interview with Gulshan Grover, where he speaks about the London Indian Film Festival, his career, as well as what he considers to be the greatest film to have ever been made in the last 100 years!
Firstly, welcome to the London Indian Film Festival. How does it feel that you have been invited as a special guest for its closing ceremony?
I'm extremely happy to be here at the closing night of the London Indian Film Festival. The new cutting edge progressive films from India are being shown here at the London Indian Film Festival. I'm here as a chief guest this evening to support and applaud the efforts that the London Indian Film Festival is putting in bringing these films to the new audiences, to the media and to filmmakers and everybody else here. I feel that like our typical Bollywood films, you don't have the unique quality, unique experience and unique entertainment value that our progressive films, cutting-edge films and parallel films offer. They are gutsy and take more chances with the subject matter they pick up and with the form and technique that they use. And I'm very happy that at the London Indian Film Festival, people are enjoying it, seeing it and appreciating it.
Given that this year is the centenary of Indian cinema, do you think that anything specific can be done in order to enhance what the industry offers to its audience?
You know firstly we are celebrating 100 years of glorious Indian Cinema. Definitely they need to improve and a lot can be done; a lot will be done because that's our quality. We as an Indian film family we are forever looking at making corrections, looking at learning new things. The new talent and energy that is brought into the family is always welcome and that's how we have done this journey of a glorious 100 years. As you can see we have crossed boundaries. We are outside of India and are enjoyed by not just the diaspora, but even the British, European, American, Japanese and Chinese. I mean everybody likes to watch Bollywood films. The number may be small right now, but there will be a time when more and more people outside of the typical Bollywood film enjoying audiences would like to see it.
You are famous for your villainous roles in Bollywood cinema. If you were forced to choose, which one of your films would you say that you are most proud of? 
What I did in the past; none. All my work if I see them today, it has rough edges and so many mistakes. Don't get me wrong, I'm grateful to my fans and everybody for still liking those films and those performances. Fantastic, thank you very much! But I as a performer, I'm continuously progressing and moving forward. So therefore, I find that it's flawed and has rough edges.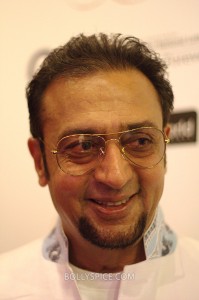 What is the most challenging aspect of playing a villain?
It's the most difficult part playing a villain in a film. It's challenging and that's why I chose to be a villain. That's why I said right at the start of my career that I will not desire to be a hero. Why should there be any difficulty because I like to play the villain and I enjoy the challenges and difficulties that it throws.
Which current Bollywood actor or actress would you say is your favourite and why?
They're all friends, juniors or seniors or colleagues. It's the complete package and not just the acting. If someone is a good actor and a terrible human being or not a good co-star, then how can you like that person? Since I'm part of the family, I like people who along with being good in their craft and good in acting, they're good human beings as well. Those are the people that I like.
Finally, given that it is 100 years of Indian Cinema, which film would you say is your favourite?
There are so many films beautiful films, but the film that is on top of the chart is Mughal-E-Azam (1960). It is a film that has truly stood a test of time. It's not become dated. A son falls in love with someone and the father doesn't like it. The conflict of a son on whether to go with his love or what his family wants. The mother's conflict and sacrifice to support the son or the man she married. The whole story is so relevant even today. And also the performances of the great Prithviraj Kapoor saab, Dilip Kumar saab, Madhubala ji, Durga Kothe ji. They've all done superbly fantastic. Those performances, dialogues and music are so good!
Gulshan Grover has a number of exciting projects in store for Bollywood lovers, which you can check out below.
BULLET RAJA
Presented by Fox Studios
Cast: Saif Ali Khan & Sonakshi Sinha play the romantic lead & Mr. Grover plays the main villain.
Director: Tigmanishu Dhulia (Paan Singh Tomar, Saheb Biwi aur Gangster)
Producer: Rahul Mitra (Saheb Biwi aur Gangster)
Music : Sajid-Wajid
SOOPER SE OOPER
The film is produced by Reliance Entertainment
Co-produced by Jigsaw Pictures, Producer Rajinish Lall
Directed by Shekhar Ghosh
Cast : Gulshan Grover, Vir Das, Kirti Kulhari, Deepak Dhobiwal
Music: Sonu Nigam & Bikram Ghosh
DOP: Mohan Anna
Mr. Grover plays a role of an eccentric bare foot painter based on M F Husain. He is the main lead in this film along with Vir Das.
YARIAAN
Produced: Bhushan Kumar (T series)
Directed: Divya Khosla Kumar
Music: Pritam.
Mr. Grover plays a positive leading role of Head of Education/ College Principal (Role inspired from Mr. Amitabh Bachchan's role in film Mohabbatein).
The film is shot in Sikkim, Darjeeling, South Africa & Bombay.
The film introduces 7 newcomers as the young heroes & heroines.
BAAT BANN GAYI 
In this film Mr. Grover plays leading double role of College Professor & a Gay Choreographer.
Ali Fasal (who is a lead in Fukrey) is also in double role of a lover & a gangster.
Amirta Raichand plays Mr. Grover's wife.
The film is directed by Shuja Ali.
Photos by Anjum Shabbir