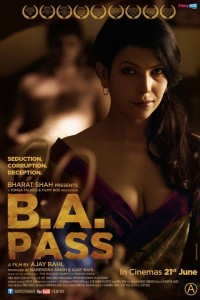 If you are looking to enter into a world of danger then look no further; BA Pass will provide you with just that. Based on Mohan Sikka's short story The Railway Aunty, BA Pass is no typical Indian film. It goes against all that is considered to be traditional Indian customs and values, though the film does have its minor flaws which some audience members may notice. Nevertheless, it is probably one of the boldest and most unorthodox films you will see coming out of India. Starring Shadab Kamal and Shilpa Shukla in the leading roles, BA Pass is based on a young male student who is seduced by a married woman and subsequently engages in an affair with her. However, despite these thrills, Mukesh (Kamal) is ultimately taken into a world of prostitution by his lover Sarika (Shukla). It is whilst being at the centre of prostitution that Mukesh sees before his eyes the corrupt activities that transpire within his own country, as a result of experiencing a number of horrific incidents.
BA Pass is a film that is full of eroticism, drama and suspense. Hence, you will not be left feeling bored or having to stretch your arms and legs during its 100 minute duration. Instead you will find yourself glued to the edge of your seat as a result of its intense screenplay and performances by the leading protagonists. BA Pass will satisfy any Indian film lover who has been hungry to see such provocative and edgy cinema. This is especially since India has long had an active censor board in force who ultimately determines what kind of content should be unveiled before the audiences' eyes. Despite the numerous positive elements to the film, it should also be mentioned that some scenes do contain a few flaws, which extracted some of the realism which director Ajay Bahl is attempting to convey. Nevertheless, this film is definitely one that is entertaining and which you may wish to re-watch again in the near future.
Shadab Kamal delivers an adrenaline-pumping performance as Mukesh. No other actor could have played this role better and he manages to give his character the correct depth and emotion to it. Similarly, Shilpa Shukla also deserves praise as the bitchy seductress who manages to control Mukesh's mind and gets him to do whatever she wants. The legendary actress and dancer Helen once said "a woman is not all sugar; she also has to be spice." Shukla's character definitely fits into this statement and she really goes all out to make the audiences despise her character. Without these two actors, perhaps BA Pass would not have been all that exciting to watch. Therefore, both Kamal and Shukla deserve recognition for their brave work and participation in this film.
Overall, BA Pass is worth watching if you wish to move away from the tedious boy-meets-girl love stories that are regularly exemplified in Indian Cinema. It is daring and thought-provoking also, especially towards the last half hour of the film where you will see the situations which Mukesh is placed in. It reveals the harsh realities which still affect India, despite its current global status today. Despite the many sexual scenes present within the film, it should be emphasised that BA Pass cannot be classified as a porn film. Instead, it is a film that is based on the worst possible journey a man can experience whilst at the prime of his life. All as a result of succumbing to the temptations of the wrong woman.