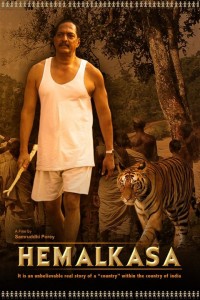 Hemalkasa is based on a true story on the lives and works of two influential figures that live in the remote village of Hemalkasa, Dr Prakash Baba Amte (played by Nana Patekar) and his wife Dr Mandakani Amte (played by Sonali Kulkarni). Both of them contribute towards the development of the rural village by providing medicinal support to its people, as well as protecting animals who have escaped from harm. In real life, the Amtes are crucial role models for rural India, with regards to delivering and educating villagers on medicine and health. Both have been rewarded for their social activities and services by the government and have proved that in a vast land like India, even the smallest support to its people is incredibly helpful and can a positive impact on its society.
Though Hemalkasa has some poignant moments that will move you, I found that the film was not very strong and could have benefitted from a more robust script. Of course, the subject itself is an important one and this is something which has been well illustrated in many parts. Yet I found that the film was a bit rocky in places and required a smoother screenplay. Director Samruddhi Porey had in her hands a fascinating story that deserves to be told to the world. However, it's a shame that this great story has not been narrated to the audience as effectively as it could have been. Having said this, the quality of the film with regards to cinematography, sound and lighting is very good considering that it has been made on a low budget.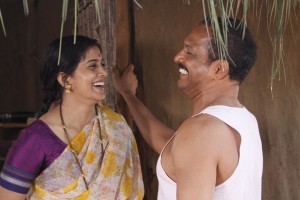 Legendary actor Nana Patekar offers us one of his most memorable performances as Dr Prakash Amte. He gives the non-fictional character a lot of body and soul which I think the audiences can connect with on a human basis. Nana gets the emotions just right in many scenes and is able to blend well with other key characters in the film. Hence, he does justice to the character and I don't think anyone else could have played it better (not even Aamir Khan, who apparently showed interest in the film). Female lead Sonali Kulkarni delivers a praiseworthy performance as Amte's wife and partner. She projects a lot of strength and poise throughout the film and there are some scenes where she manages to be very convincing and heartfelt. Both Nana and Sonali are at the centre of this film and without them, the film would not have been as enjoyable to watch.
Hemalkasa was the film which closed the 5th London Indian Film Festival. Though it was a respectable choice due to its subject matter, the film required more to it in terms of its script and I was, therefore, left unsatisfied in the cinematic sense. It's true when people say that a script is the heart of a film. Without a great script, you should be prepared to see a disaster of a film. Though Hemalkasa is nowhere near this level, I found after watching it that the script needed a lot of honing in order to make it a more impactful film. If I had to rate Hemalkasa based on the film alone, then I would give it two stars. However, I think a third star should be given purely due to Nana and Sonali, who have both set a great example when it comes to method acting with their performances in this film. If you sould watch Hemalkasa for any reason, watch it for them and also for its meaningful subject.