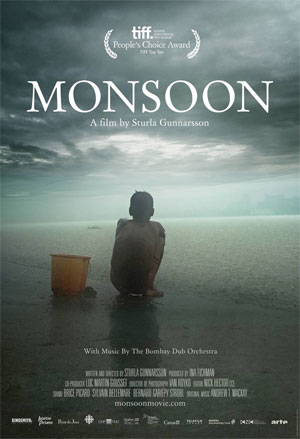 It was no surprise that Canadian director Sturla Gunnarsson's very fine documentary, Monsoon (which was part of the Official Selection at the 2014 Toronto International Film Festival) was not only part of Canada's Top Ten 2014, but managed to nab its People's Choice Award. Gunnarsson has described his film as "a love letter to India", chasing the annual rains from landfall in the south as they move across the country. But it's not only an examination of something that is mythical in its proportions and effects; Gunnarsson looks at how the monsoon affects the lives of individuals, whether a young girl and her family living in the Kerala backwaters, to meteorologists who spend their careers tracking the phenomenon, to a bookie who tries to make money off of it. In Gunnarsson's hands, the monsoon's mythical proportions fill the screen; yet, the monsoon also appears as a kind of unruly house guest, someone who visits every year, trashes the house, and then leaves the hosts to pick up the pieces.
Forecasting the monsoon is a science, but it's also something that inspires passion. Gunnarsson describes the weather forecasts as akin to state secrets, probably, he muses, "because the stakes are so high." So much depends on the rain, and the lack of it – as evidenced in Maharashtra – results in a drought that leaves farmers unable to provide for themselves and results in people living on the edge of starvation (it's probably no coincidence that drought-ridden Maharashtra has set a record for farmer suicides). One farmer interviewed described the monsoon as "soul", without which life was not possible. Also true, though, is that too much rain can prove equally destructive.
Gunnarsson's film invites us, as well, to contemplate the monsoon, to be awed by its size and power and beauty, to feel the gritty dryness of a landscape deprived of it. The monsoon, the film reveals, is all about balance, and the monsoon itself reveals that the balance is a delicate one. But the film is also a bit of a thriller, as Gunnarsson structures his examination of the onset of monsoon by building in a sense of anticipation that almost has us at the edge of our seats, waiting for monsoon to be declared.
Most of all, Gunnarsson inspired in me a desire to experience the monsoon first hand – his film may be the closest I ever get to it, though, and thankfully, his exceptionally fine photography (the film was shot in 4K with a Red Epic camera – one of which ended up trashed by the rain) allows the viewer to appreciate the exquisite beauty of this truly unique phenomenon.