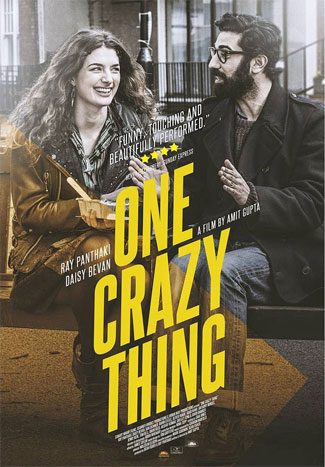 Out-of-work actor Jay (Ray Panthaki) struggles to make ends meet while managing his family's London tandoori restaurant. Jay was once a rising star on a popular television soap, but his world came crashing down around him when his ex-girlfriend, Chloe, released their sex tape on the internet after he dumped her so he could focus on his career. Chloe went on to become a rich and successful Hollywood star, and Jay? He was dropped from the soap, he made the tabloids, he brought his family shame (even the family in India, his father points out), and his only claim to fame, it seems, is the infamous tape, the "one crazy thing" of the film's title. He can't go out to a bar without someone wanting a picture with the "Asian Persuasion", as one fan calls him. He can't even, it seems, go out on a date with a dentist without her knowing about the tape.
But when Jay meets the pretty American graduate student Hannah – he literally falls at her feet one day when he trips over some trash bags – it suddenly seems as if his life will finally take a turn for the better. Hannah has a horror of the internet, of celebrity, of, well, actors. When Jay finally musters up the courage to reveal to her that managing his family's restaurant is what he does when he's not acting, Hannah is briefly upset – she's unhappy that Jay has hidden this from her – but she realizes she likes him, and, as she tells him, there's probably nothing worse he could tell her after this. Jay struggles to find the right moment to reveal the thing in his life that is, in fact, much, much worse.
Amit Gupta's One Crazy Thing is incredibly witty and charming. And while it adheres to romantic-comedy conventions, it manages to make them seem fresh through some deft writing and some wonderful performances. Ray Panthaki is terrific as Jay – with his nebbish-y glasses and his self-deprecating charm, he's almost an East End London cross between Woody Allen and Hugh Grant, moaning about his life, complaining to his agent, commiserating with his friend Charlie, a fellow actor.
Daisy Bevan's Hannah is a breath of fresh air that blows into Jay's life, and she's so lovely and easygoing. In fact, all of the cast is top-notch. One Crazy Thing is one crazy good film.