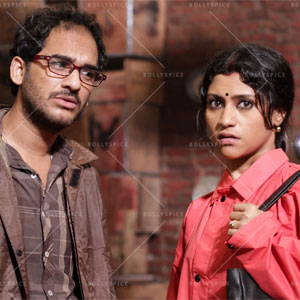 On a stormy evening, a married couple (Konkona Sen Sharma and Rittwik Chakraborty) on vacation takes refuge from the rain in a house filled with ruin and clutter. There they discover an old man (Anjan Dutt), alone, who makes them tea and kichdi and insists they stay for the night – in fact, he insists that the rain will not let up, and they will be unable to leave. What transpires is an evening filled with poetry and puzzles, magic, philosophy, and perhaps a little menace.
National Award winning director Aparna Sen returns to the festival circuit with her first film in Hindi, though she hasn't strayed far from her Bengali roots, choosing to adapt a play by noted Bengali playwright Badal Sircar (the play's original poetry has been translated into Hindi by respected screenwriter and lyricist Javed Akhtar). A tale told in half light and flickering shadows, the film sticks closely to its theatrical roots, especially in terms of its staging and dialogues.
The old man has his theories about things, which he shares with the couple. In particular, he shares his theory of "seven years": he explains that for him, seven years makes up a chapter in one's life, and the end of each seven-year period results in a turning point in life, "the end of an old way of thinking, and the beginning of a new one." When the woman asks him to guess her age, he tells her that it's not polite to state a woman's age, but that if he were to, he would guess that she's at that stage in life when a woman begins to take stock of her past.
Over the course of the evening, the old man proves uncanny at uncovering the details of the couple's marriage. As he talks to each of them separately, what is revealed is that the husband and the wife each have totally different perceptions of the other, and of their relationship. The husband reveals himself to be practical, and finds his wife too imaginative, too childish. He wants to have children so that she will be forced to grow up. But upon prodding by the old man, he admits that while he still wants children, his wife, perhaps, does not. The husband also admits that his wife has developed a kind of restlessness, is prone to mood swings. The theory of seven, the old man offers.
"All night long, I've stayed awake … and known what it was best not to know," recites the old man, before finally serving up dinner. It's almost a leitmotif for the film, and in particular for the woman, who reveals that she often awakens in the middle of the night in order to simply stare out the window (a fact that her husband is unaware of), aware that something is missing, but not quite aware of what is really amiss. Prodded on by the old man, she reflects on her life – she is happy with her job, with her marriage, she doesn't think they need children. But she is aware that the old man seems to be pushing her to go deeper, to think harder, to pull something out from deep inside, though she is not sure what that might be; however, she's convinced that the old man is searching for it and trying to draw it out of her. She is not wrong.
The success of the film hinges on many things, not the least of which are the excellent performances from all three actors. However, the film's best moments are those when Konkona Sen Sharma confronts Anjan Dutt, pushing back and prodding the old man just as he does her, and the chemistry in those moments is just cracking. The woman, awakening in the middle of the night, comes to find the old man, revealing to him that she has finally recognized who he is – Ranjan, a reference to Rabindranath Tagore's The Red Oleander, in which Ranjan is seen to be the personficaton of beauty and youth. In the depths of the night, she begins, finally, to confront what she really wants in life, what it might cost her, and what it might mean for her marriage.
One night. One long, sleepless, rainy night. Was it all just a dream? And who knows what will remain when the dawn breaks and a new day begins?