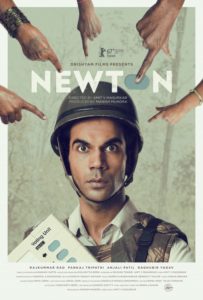 The Chhattisgarh region of central India is rich in mineral resources, but its people live in poverty, eking out a living amongst the fighting that has gone on for close to three decades, with many of them uprooted from traditionally held tribal land. These people end up caught between the government and the Maoist rebels, and it's this tension that serves as the backdrop to Amit V. Masurkar's finely chiseled film, Newton. In the world's largest democracy, free and fair elections are seen as the way to counter Maoist opposition, and the key to free and fair elections is the voting machine.
Newton (Rajkummar Rao) is a college graduate with a master's degree in physics and a deeply rooted sense of justice. When his government job requires him to serve as an election official at a polling station in an isolated rural area at the heart of a conflict with the region's communist guerrillas, known as Naxalites, he doesn't hesitate to get on the helicopter. Newton is rigid and rule-following, but also deeply committed to fighting for what he believes is right – an attitude that causes him to come into direct conflict with everyone around him, including his parents. Newton (who changed his name from the original "Nutan") refuses the marriage his parents try to arrange for him (they have their eyes on the dowry and a daughter-in-law who will look after them. Newton is affronted that she's underage and uneducated). "You gave yourself a big name to live up to," comments an election official charged with training those who will work the elections (actor Sanjay Mishra in a fine special appearance) – noting, too, that Newton's namesake (Sir Isaac) was important primarily because he levelled the differences between people. If a rich man and a tea-seller jump off a cliff at the same time, he tells Newton, they both hit the ground together. His insight into Newton's character is telling, too: Newton is honest – he wants to make a difference, he says. But he's also arrogant, and it's precisely his arrogance about being so honest that will prevent him from making the difference that he feels is so important.
It's with this arrogance intact that Newton sets off for the isolated region in which he will be required to ensure that the 76 tribal inhabitants are able to cast their votes. He is accompanied, as the risks require, by members of the military, with their representative Atma Singh (Pankaj Tripathi), by an experienced election official Loknath (Raghubir Yadav), as well as a local representative, Malko (Anjali Patil). Each of these people, as well as Newton himself, represent varying sides of the issues involved, but the skill with which the film has been written and performed means that they never become cyphers or stereotypes. Each of them serves a purpose, a lesson for Newton: Atma Singh and his men deal with the conflict on the ground, short on resources and painfully aware that elections in these circumstances hold only symbolic meaning; Loknath represents precisely what Newton dislikes in the civil service, with his chatter about his writing and his fortune-telling with cards; Malko offers gentle insight into the customs and culture of the region, but is largely ignored by everyone around her, including Newton.
There is so much to commend in this film, from its deft writing and dark humour, to its cinematography (by Swapnil S Sonawane who was also the DP for Faith Connections and Angry Indian Goddesses) to its fine performances, to its absolute lack of judgment – it's up to us, the audience, to take in the film's message and make our own decisions about what is right, and what is wrong – and what might be in between. Even Newton himself is presented as highly unlikeable, and yet utterly sympathetic. We can believe that Newton is acting in ways that he believes to be absolutely right and true and honest, even when we can completely understand the positions and the frustrations of those he deals with. Ultimately, Newton may be stubborn and intractable, but he's also willing to stand up for what he believes in.