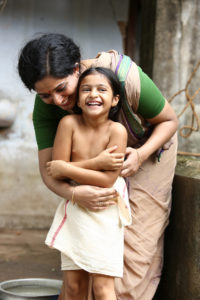 Malayalam master filmmaker Adoor Gopalakrishnan's first film in eight years, Pinneyum ("Once Again") opens with the discovery of a dead man in a hotel room – and it will take the whole film for us to discover who this man is, and why he died.
Thirty-one year old Purushothaman Nair (Dileep) has been looking for work as an accountant since his graduation eight years earlier. His wife, Devi (Kavya Madhavan) works as a school teacher in order to sustain their extended family (her daughter, father and brother), and their apparently once loving relationship (theirs was a love marriage, approved of by family) shows the strain that Purushothaman's unemployment creates. Finally, after much failure, Purushothaman obtains a visa and employment in the Gulf, following in the footsteps of so many other Malayalees who looked – and still look–to the Gulf as a way out of chronic unemployment.
The change in the family's fortunes is immediate. The relationship between Purushothaman and Devi is carried on, as must needs, through letters in which their relief is palpable, and the love that originally bound them together is allowed to bloom once again. Purushothaman's visits home allow him to shower gifts on his family, and to spread the good fortune around his community – there seems to be no end to the people asking for a handout, which Purushothaman seems to accept with the same equanimity as he did the barbs directed at him for being unemployed and living off his wife.
But all is not as rosy as it seems, and Purushothaman, perhaps fueled by lingering insecurity from his days of unemployment and his need to be away from his family for extended periods in order to provide for them, decides that he needs to take more drastic action to ensure his family's future welfare. Through one of those letters home we learn he's purchased an insurance policy. He decides to fake his own death and have his family collect the insurance money. When the dust settles, he'll have them rejoin him, and they can live together, once again, without having to worry about money or separation.
Gopalakrishnan was inspired by the story of Sukumara Kurup, perhaps Kerala's most-wanted criminal, who, in the 1980s, allegedly attempted to fake his own death by murdering a film representative named Chacko. The deceit was quickly unravelled, but not before Sukumara Kurup managed to escape, leading to speculation as to his whereabouts and occasional alleged sightings. Here, Purushothaman is aided by his father-in-law and Devi's uncle in his pursuit of a suitable body to use. When their attempts to grab a beggar or invalid on the street fail, they resort to strangling and burning the body of a man who stops them to beg a ride to the main road so he can get a taxi to take his wife to the hospital to give birth. Needless to say, he never arrives.
It's precisely this central plot point that causes Gopalakrishnan's film to falter – nothing up to this point allows us to understand why Purushothaman feels compelled to take such drastic measures to ensure his family's financial security. Yes, there is the memory of his unemployed period and its strains and stresses, and anyone who goes through such a thing surely understands that he might feel the fragility of a situation that might change at any moment. As well, it is utterly perplexing that even if we find some justification for Purushothaman's actions, it is even more strange that his father-in-law and uncle would participate in the plan. I was able to set this aside, because the rest of the film dabbles in the brilliance for which Gopalakrishnan is renowned, from his measured pacing to his understated social commentary and themes of innocence, guilt, and greed.
Bijibal has built a solid foundation as a music director since his first film, director Lal Jose's Arabikkatha (which also dealt with the plight of Malayalee workers in the Gulf), and here his score is delicate and poetic, serving to underpin the poetry of the story. Cinematographer M.J. Radhakrishnan is probably best known for his recent work on many of Dr. Biju's films. Here, he brings a sense of exquisite lighting and framing to add to the film's brilliance.
My second quibble about the film is establishing the 47-year-old Dileep as 31-year-old Purushothaman; that said, I'm always happy to see Dileep move out of his comedic comfort zone, as he's a capable actor who brings depth and interest to roles when he allows himself the opportunity to try something challenging. His turn as Purushothaman is no exception, and he manages to reflect the character's sense of fatigue and frustration, as well as his relief and later desperation.
A highlight of Adoor Gopalakrishnan's films are his extended casts, and Pinneyum is no exception. The film is grounded by supporting performances by Nedumudi Venu as Devi's father and Vijayaraghavan as her uncle. I have a particular fondness for Indrans, and here his small but mighty turn as Devi's sickly brother, Kuttan, only adds to my admiration for this fine supporting actor. Kuttan represents that sense of innocence that is destroyed by Purushothaman. He is the one tortured by police – he knows nothing of what has happened, and he is left more broken by this experience than anyone else. The look in his eyes when he is allowed to leave the police station caused me, frankly, to reach for my box of tissues.
But it's Kavya Madhavan as Devi who really owns the film. Her Devi is, admittedly, irritated at the burdens her husband's unemployment places on her. We understand her love for her husband once those burdens are lifted. But the entire burden of Purushothaman's actions fall on Devi once her father and uncle are imprisoned and Purushothaman absconds – it's Devi who must raise their daughter alone, who must deal with the fact that three of the people closest to her have committed this terrible crime. It's Devi who continues to look after her bed-ridden brother. It's Devi who steps in to help the son of the murdered man, paying his college fees to ensure he has a better life. And it's Devi who must bear the emotional upheaval created by Purushothaman's return – all Purushothaman can think of, 17 years on, is how much he has missed Devi, and how much he wants to build a life with her, once again. It's the only time Devi is shown to break down, her tears reflected by the heavy rains that fall, representing her struggle and heartbreak. She has never stopped loving Purushothaman; but, for Devi, there is no "once again". There is only the burden of living with what Purushothaman has done, with as much grace and kindness towards others that she can muster.
While the plot quibbles, for me, keeps Pinneyum from ranking up there with Gopalakrishnan's earlier movies, it does "once again" contain enough of the other sterling qualities his films are known for to be a satisfying watch, especially for avid fans of the master.