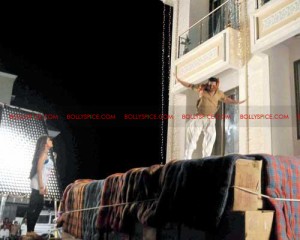 The King of Bollywood Akshay Kumar, who scored mega back-to-back hits with his first two releases of 2012 Housefull 2: The Dirty Dozen and Rowdy Rathore, which both reached the magic Rs100 Crore mark, has once again amazed fans and his fellow cast and crew by undertaking a death defying stunt on the set of his new film Khiladi 786.
The adrenaline junkie dazzled the crew working on the action-comedy film Khiladi 786 when he made an impromptu leap from a Bungalow balcony perched 45ft off the ground – without any safety equipment. Although Akshay was provided with a cable and harness for the action scene, he showed his daredevil nature by ditching the safety measures and expertly diving onto the surrounding boxes and mattresses placed below. Risky yet spontaneous Akshay said his experience was 'Thrilling with lots of fun'.
An eyewitness from the crew described the scene as; 'The production unit and stunt director Jai Singh insisted that Akshay use a cable wire but he refused. The entire unit got together to watch Akshay's stunt scene and were amazed at his decision to do it without any duplicate or safety measures.'
Akshay Kumar, who has a background in Martial Arts, is famed for performing his own stunts in his films, and is also an avid extreme sports enthusiast.