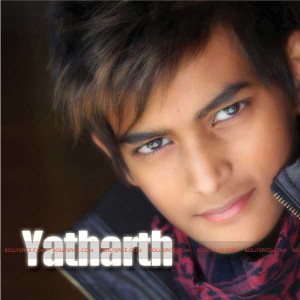 Almost every country in the world has a television talent competition, but very few of them have delivered a new voice that transcends geography. Until now. Introducing Yatharth Ratnum, a young singer from India who competed on the 2009 edition of L'il Champs. The show was seen in 162 countries and voters from all over the globe voted Yatharth the first runner up. His mature yet gregarious personality, polished look and bold determination, meshed with remarkable range and vocal ability, has earned Yatharth the opportunity to share his musical vision with listeners everywhere as he prepares to release his first record, YATHARTH, on May 22, 2012.
Each of the songs represents facets of Yatharth's life and interest in different genres of music. "I Love You" is Yatharth's first written and composed song, inspired by his first love. It is infused with sweet romanticism, whereas "Tonight" is a full-on party song. "Here Comes the YR" is his personal anthem, a pop-rocker with an unforgettable, sing along hook. But "Cosmic" is the track that most incorporates the vocal agility inherent to his culture's music. It fuses the best of American pop with traditional Indian elements to create a unique, identifying track. The album is rounded out with textured, radio-friendly "Insane" and "Mirage."
Yatharth contributed to the music and lyrics of each song on YATHARTH. It was recorded at Thunder Underground in California, and was produced by Matt Harris (The Posies, Ian Moore, Roky Erickson) with engineer Harper Hug (Neil Diamond, Luther Vandross, Indigo Girls) at Thunder Underground. Eric Valentine (Nickel Creek, QOTSA, Slash, Taking Back Sunday) of Barefoot Studios provided the mastering.
Yathath is from Varanasi, and currently lives in Mumbai with his parents and two sisters. He won the category of Outstanding International Vocalist from The Young Artist Awards in 2010. He'll be starring in his first movie in 2012, a Bollywood musical that will also feature songs by Yatharth.
YATHARTH will be available in stores and online on May 22, 2012.