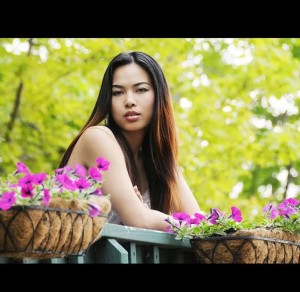 Lin Laishram is all set to make her presence felt in Bollywood. The gorgeous model from Manipur will be seen playing a rather interesting role in Vishal Bhardwaj's Rangoon.
Talking about her struggle in B-Town, Lin admits that people do tend to stereotype her based on their looks, but she insists that she prefers to focus on the positivity. "I think it's a great time for actors. So, while I can't say that the entire concept of the typical Indian beauty has changed, it is certainly evolving. Actresses here are already redefining the Bollywood beauty and I am only happy to be a part of that brigade. So I am not bound by boundaries, nor by looks," states the actress, who was in consideration for the lead role of Mary Kom in the Omung Kumar biopic until Priyanka Chopra bagged it,
Looking forward to her big ticket Rangoon, the actress shares that she has 'felt respected' working with Bharadwaj. "He is one of the best directors in India and to be a part of a team that has dedicated and beautiful actors like Kangana, Shahid and Saif, is a very happy feeling. It's not work for me, it's a treat!" she exclaims.
Lin further shares that the role is rather special for her for more reasons than one. Calling the film a life-changing experience, Lin says, that the film means a lot for her not only as an actor, but also for her people back home. "The character I play in the film is very strong and almost represents the women from my state."
Having been a sportswoman – she was a Junior National champion in archery – a model and also a theatre person, the actress shares that she is keen to explore all roles and not limit herself to anything. "I am not here to complain or let myself feel shortchanged because I am an outsider or I am from Manipur. I am here now and raring to go," she says.