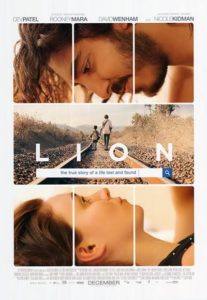 Adapted from the memoir "A Long Way Home" by Saroo Brierley, the incredible film Lion stars Dev Patel and Nicole Kidman. Directed by Garth Davis in his feature film directorial debut, the drama also stars Rooney Mara, David Wenham, Sunny Pawar, Priyanka Bose, Tannishtha Chatterjee, Nawazuddin Siddiqui, and Deepti Naval.
Lion tells the story of five-year-old Saroo (Sunny Pawar) who accidentally ends up alone on an empty train. Frightened and bewildered, he travels thousands of miles away from his home, and lands in chaotic Kolkata. Somehow, even without speaking the language, Saroo survives living on the streets. The young boy escapes all sorts of terrors and close calls before ending up in an orphanage that is not exactly a safe haven. Eventually Saroo is adopted by an Australian couple (Nicole Kidman and David Wenham), and finds love and security as he grows up in Hobart. As an adult, not wanting to hurt his adoptive parents' feelings, Saroo (Dev Patel) suppresses his past, his emotional need and his hope of ever finding his lost mother and brother. But a chance meeting with some fellow Indians reawakens his memories and starts him on the path of discovery. Armed with only a handful of memories, his unwavering determination, and Google Earth, Saroo sets out to find his lost family and finally return to his first home.
The film is a beautiful tale full of emotion and incredible performances. We are taken on the horrifying journey of young Saroo, to his finally finding safety and love, on to adult Saroo being settled but still missing something, then being completely lost in a world trying to find home and we finally get the to the end and are emotionally drained and lifted up. You feel every moment and cannot wait to get to the hopefully happy ending and his finding of home. From the first shot to the final fade to black you are completely invested in this amazing story and that is the mark of a true and rare, in this day and age, film. I could not wait to get to the end to see if he finds his family at the same time being entranced, stunned and moved by that story playing out in front of me.
The beginning, starting from when Saroo is on the train and then dropped into the scary world of Kolkata is incredibly hard to watch. To see this little 5-year old boy experience his happiness and then his unending fear is almost unbearable. You want to scream to him at some points, to hug him and make him safe. That is a testament to the young actor Sunny Pawar and to the director Garth Davis. Each moment is done so realistically and in no way overdone to create drama – it is pure drama. You are lost with him. Sunny Pawar is brilliant and speaks so much through his eyes; you feel every emotion even when he speaks not a word.
While watching and struggling through the horror of the beginning I was wondering why there was such a long sequence of the back-story of young Saroo. However, in the end you see why it was presented that way and it enhances the final ending that much more. A masterful stroke of filmmaking.
I have to mention Abhishek Bharate as Guddu, Saroo's brother; he was wonderful and is a light in the film. Though only seen in a few scenes Priyanka Bose's (Saroo's mother), incredible performance made a real impact to the story. So much in so little and it is perfect.
Also it must be highlighted that in one very small but incredibly powerful sequence both Tannishtha Chatterjee and Nawazuddin Siddiqui make their presence felt. Both actors are superb.
Once Saroo is rescued and we can all breathe a bit with relief, we meet Sue and John Brierley played by Nicole Kidman and David Wenham who adopted the young boy.
David Wenham as John is a silent strength that brings such depth and feeling to the role. He is the character; you never feel that he ever was anyone else. I actually wish there was more of him in the film he was that good.
Nicole Kidman is in one word amazing. She got so inside that character that if you did not know that was Nicole Kidman you would not know it was Nicole Kidman the actress, she was Sue Brierley. In each scene you can feel the desperation, the hope, the happiness, the sadness, the strength and most of all the love she had for Saroo and her family. It is a brilliant tour de force performance. She justly deserves every nomination and every award.
Dev Patel has certainly come into his own as an actor. He encompasses this character so fully, and you are taken on his character's emotional journey right along with him. So much is said with a look, a body movement or just in one word. His Saroo is happy mostly, conflicted, still lost and in the end finds his home whatever and wherever that ends up to be. This is one of his finest works so far in his career.
Rooney Mara as Lucy, Saroo's girlfriend brings another excellent layer to the film. Each scene she is in, you feel everything Lucy went through and her love and support of Saroo.
Each performance is perfect; there is not wrong note, line or look. You completely believe that they are these people and we are just a part of their lives, not that we are watching actors portraying a story. Once of the finest ensembles in a movie I have ever seen.
The direction by Davis brings out incredible performances by his actors and that is what makes this movie so good. Overall, the movie had so many incredible moments, it flowed, it brought us on and inside the journey and made us feel and experience the gamut of emotions that these characters go through in the story. As I said earlier, the beginning scenes with young Saroo are hard to experience but brilliant. However, in the later parts of the movie with older Saroo, I do feel that in some moments he went too much for the feeling and look of a scene. There were many of the 'artistic shot' type of scenes to create emotion instead of actually portraying the emotion with words and looks. A long, long, long shot looking down a hall with open doors but nobody there to give the feeling of aloneness and isolation was not really needed. There was too much of that and it distracted instead of enhanced.
I also wish that there was more roundness to the dialog. There were many great moments, many perfectly spoken lines but never a full deep conversation and I kept wanting more. It needed more. However, the lines and the words that were spoken were brilliant. Especially the confrontation scene between Dev Patel and Nicole Kidman. She astounds and makes you cry.
Even with those misses, this film is still one of the best films I have ever had the experience of watching. It breaks your heart, leaves you stunned and wanting to give it a standing ovation in the theater or watching the screener on your computer. From beginning to end, Lion is a journey of the heart and though it is hard and lonely and lost- you find love and home in the end and that is all that matters.
Be sure to stay through the credits!
I cannot recommend this film highly enough. Go experience this incredible story on the big screen. It is a must see!
Lion is in limited release now and expands nationwide on December 23rd.
I also have to mention, the film not only is the tale of Saroo from Ganastaley it also shows the horrific problem of the young lost kids in India. Over 80,000 children go missing in India each year. Using the profile and publicity that will surround the release of this moving film, the production company See-Saw hopes to shine a spotlight the need for global support to assist extraordinary organizations working on the ground to protect children in India and around the world. You can find out more information and an opportunity to make a donation via the film's website, www.lionmovie.com.