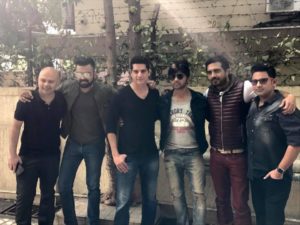 After the immense popularity and success of the first two tracks from the multi-talented Himesh Reshammiya's brand new private album Aap Se Mausiiquii, came four unique remixes of the title track by India's Top 4 DJs.
DJ Akbar Sami, DJ Aqeel, DJ Chetas and music producer Kiran Kamath came together to create magic with India's Rockstar on the title track of Aap Se Mausiiquii. It is the first time this concept has been explored and it is also the first time that remixes have released before the full album release. Incidentally, this is also the first time that one particular song is remixed four times from an album.
In a recent TOI article, Himesh spoke about this exciting new concept and said, "All the four remixes are wonderful. I'm excited that these artistes have worked on my title track. This song is a dedication to all the DJs of the world from a musician who loves and respects the DJ culture. 'Aap Se Mausiiquii' has 10 original tracks, each with a remix or lounge version."
Check out the respective remixes below and also pics from the event where Himesh got together with all four DJs!
DJ Akbar Sami – Urban Mix

DJ Aqeel

DJ Chetas

Kiran Kamath

In association with Himesh-Reshammiya.com