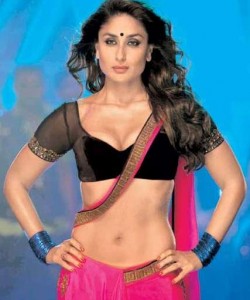 It seems like the 'heroine' is inspired by her sister for her item song in Dabangg 2. Reportedly, Kareena's dance for the song will be inspired from Karisma's raunchy number 'Sarkayi lo Khatiya Jaada Lage' from Raja Babu, which had set stages on fire at that time. Karisma stole hearts donning red kurta and black lungi, and apparently Bebo will also be wearing a similar lungi dress in her song.
Bebo was ready for the idea when it came to her, since she adores her sister. The only difference between Lolo and Bebo's dress will be the length and colour. The length will be suited to today's times and the colour will be black. Kareena brainstormed with her designer friend Manish Malhotra for the final design and both she and Lolo cannot wait for it.
Though Kareena and Manish both remained unavailable for comment, it has been said that Kareena is already rehearsing at Mehboob Studios for her song with Farah Khan and her team and the shoot for it will begin on November 5.
Salman is said to be protective about Lolo's younger sister and has apparently asked Farah Khan to keep the intimacy low and choreograph the song decently, even though the song's name is 'Fevicol Ka Jod'. Saman doesn't want any problems in Bebo's married life as she now belongs to a royal family. Saif and his family have no problems with Bebo's career related choices as such but Salman still wants to make sure there are no problems from his end.
Kareena is hoping to please her fans even more with this song after her 'Halkat Jawani' and 'Chammak Challo were applauded at by many.
Malaika Arora Khan had mesmerized everyone with her 'Munni Badnaam Hui' from Dabangg. We are sure Bebo will raise the bar with Dabangg 2!