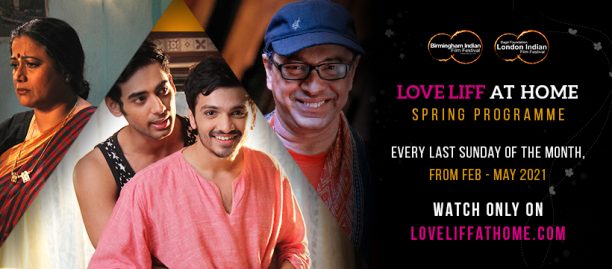 The outstanding London Indian Film Festival is back! Now in its 12th edition, LIFF is springing forward with some very special screenings all leading up to the Summer film festival in June!
LIFF, which is the UK & Europe's largest South Asian film festival, will begin with a series of upbeat movies, online on the last Sunday of each month at www.loveliffathome.com along with much more.
Cary Rajinder Sawhney MBE, Executive & Programming Director of LIFF says,
"After a challenging few months we are bringing some much needed uplifting entertainment and as always our quality films offer fresh views of India and South Asia; movies that may even challenge and certainly leave you thinking."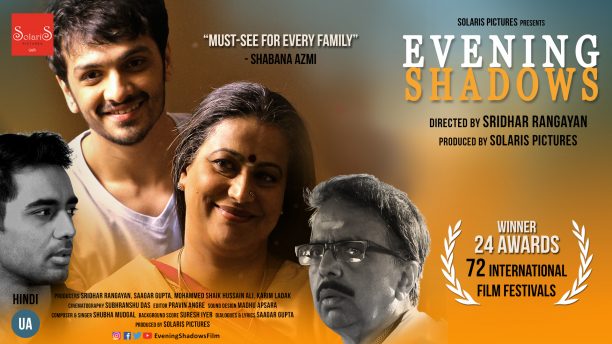 First up in the series of films and marking LGBT+ History Month, Evening Shadows is a tender heartwarming story, set in a small town in Southern India, where a young man comes out to his mother and the upheaval it causes with the traditional family and society around it. The sensitively handled film, directed by award-winning Indian filmmaker and gay activist Sridhar Rangayan, underlines the challenges gay men continue to face in India to come out to their family, as well as question the dominant patriarchal social mores. The film has won 24 international awards and has become a success on the international film festival circuit with selection in 72 international film festivals.
As an exclusive added extra, film critic, Ashanti Omkar talks to Director Sridhar Rangayan and lead actors Mona Ambegaonkar and Devansh Doshi, who play mother and son in the film, talking about their roles and the LGBTQ+ issues in the film in modern India.
Further titles will be announced, meanwhile, film buffs can catch up with some top names from Indian cinema in a series of exclusive 'In Conversations' with the likes of Ayushmann Khurrana, who was recently listed as one of Time's 100 most influential people of 2020, the evergreen doyenne of Bollywood cinema, Shabana Azmi, and Mira Nair whose first all Indian-led cast brought to life Vikram Seth's novel A Suitable Boy for the BBC. Other top names include cult director, Anurag Kashyap, Indo-Canadian Director, Deepa Mehta and Star Trekking award-winning actor, Adil Hussain.
LIFF also has carefully curated masterclasses and Q&As, that audiences can indulge in, as we get up close and personal with the likes of the late and legendary Irrfan Khan speaking to British Asian filmmaker and award-winning Director, Asif Kapadia, Padma Shri award-winning director Mani Ratnam speaking with documentary and filmmaker Peter Webber and Tannishtha Chatterjee, actress and director who recently made Rat–A–Tat, as part of Unpaused, an anthology of films made in Lockdown.
In Conversations, Masterclasses and Q&As are available to view for FREE at www.loveliffathome.com. Film screenings may incur a ticket fee.
This programme is supported by Film Hub London (managed by Film London), Film Hub Midlands and Film Hub North, proud to be partners of the BFI Film Audience Network, funded by the National Lottery. Major partners of LIFF are the Bagri Foundation and the British Film Institute (BFI).
Stay tuned we will be bringing you much more!