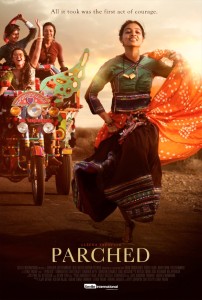 The 7th Edition of the London Indian Film Festival is currently thrilling audiences both in London and Birmingham with its eclectic and cool mix of some of the best new Indian and South Asian independent cinema, which includes feature films, documentaries and short films by both acclaimed and new filmmakers. The festival opened on July 14th with Leena Yadav's Parched. Produced by Ajay Devgn, Parched stars Radhika Apte, Tannishtha Chatterjee, Surveen Chawla, and Lehar Khan.
Parched is a wonderfully joyous and inspiring tale of comradery. Four ordinary women live in a desert Gujarati village, weighed down by centuries of tradition. Rani (Tannishtha Chatterjee) lost her husband at 16 and struggles to bring up her teenage son, careful to follow every village rule. Her friend Lajjo (Radhika Apte) is always brimming with positivity, but fears beatings from her drunken husband. Bijli (Surveen Chawla) is secretly Rani's friend, she's a local performer and prostitute, but her beauty is coming to an end along with her youth. Janaki (Lehar Khan) is a child bride to Rani's son, secretly struggling to come to terms with a loveless marriage. As the magical festival of Dussehra approaches these friends' bonds are put to the test, forcing them to make decisions that will dynamically change their lives forever.
The opening night gala saw Ajay Devgn walk the red carpet and he brought his beautiful daughter Nysa to the event. Also seen on the red carpet were Shekhar Kapur, Tannishtha Chatterjee, Leher Khan, Chandan Anand and director Leena Yadav and husband cinematographer Aseem Bajaj and many more! The screening of the film received a tremendous response and thundering applause. Another highlight was the riveting Q and A with director Leena Yadav, Tannishtha Chatterjee, and Leher Khan.
Check out these pictures from the red carpet!
The outstanding festival runs through July 24th! To find out more be sure to check out http://londonindianfilmfestival.co.uk.
Also be sure to check out BollySpice becuase we have fabulous movie reviews and and some very cool interviews for this year's festival!