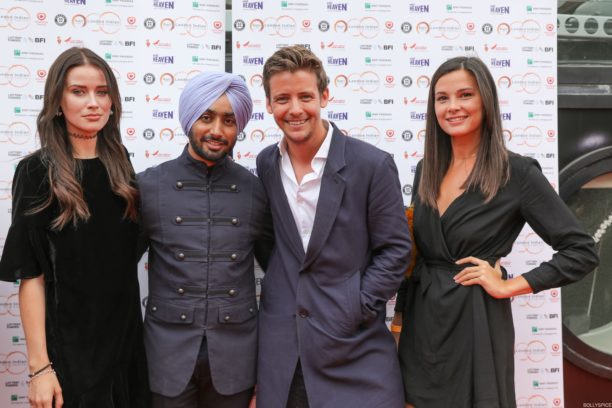 A pleasantly warm Thursday evening on the 22nd June saw some of the cast of The Black Prince, along with other Indian celebrities and film-makers, turn out at the BFI Southbank for the screening of what turned out to be a well-received opening film of the London Indian Film Festival.
Despite technical hitches which looked in danger of scuppering the red carpet event entirely, the parade of talent was only too keen to pose for pictures and talk excitedly about their roles in the movie. The story arc follows Duleep Singh, crowned at the age of five to be the Maharajah of the Sikh Empire only for treachery to rob him of his throne. To save his life he is taken to England and raised as a Christian. However, when he comes of age he seeks out his mother who encourages him to reclaim his true heritage and rightful place as leader of the Kingdom of Punjab.
The lead role of Duleep Singh was played by Satinder Sartaaj, an acclaimed singer-poet making his acting debut, who had flown over from India for the screening. "It's a privilege to be able to open the London Indian Film Festival with The Black Prince. It's a fantastic opportunity to introduce London's audience to the truly fascinating story of Maharajah Duleep Singh. It's a story that should be told and has not been told until this point, and we hope this who watch the film will be moved," he said.
Also on the red carpet were Sophie Stevens and Laenna Joyce, who play Duleep's first and second wife respectively. Laenna was particularly praiseworthy of the way the film had tackled the quite sensitive subject. "You have to get both points across, but you don't want to offend Indian heritage," she said. "It's something that everyone can enjoy watching."
Lyndon Ogbourne, who has the role of Sir O'Burne, also praised the movie and its ability to not candy-coat what were dangerous times and portray the Brits as villains in the piece. "We were the bad guys. We did it through arrogance," he said.
The movie has aimed to balance historical accuracy with the emotive journey that Duleep Singh goes through from being taken from his mother and homeland, to his quest to reclaim what was lost.
The Black Prince will be released worldwide on 21 July.
Here are some shots from the red carpet
website: www.theblackprince.com
facebook: facebook.com/TheBlackPrinceFilm
instagram: instagram.com/TheBlackPrinceFilm