The London Indian Film Festival is delighted to announce that Mercury nominated musician Susheela Raman will perform alongside acclaimed filmmaker and rapper Q, in a unique first of its kind event that marries the heady vibe of the controversial film Gandu with a pulsating interactive concert. June 21 will see BFI Southbank reverberate to the strains of Raman and Q's band Gandu Circus along with special guest Steve Chandra Savale from the Asian Dub Foundation, following a screening of Gandu.
Festival director, Cary Rajinder Sawhney says: "As part of the festival we are undertaking several exciting new commissions, mixing film and arts. Gandu Circus, a live Jungle-rap rock performance by Kolkata based rapper and revolutionary film director Q is intercut with stunning visual imagery, with the powerful voice of Susheela Raman making the experience transcendental. The film Gandu was never publicly released in India, especially due to the blatant drug usage, expletives and full frontal sex. It makes the film Shame look tame."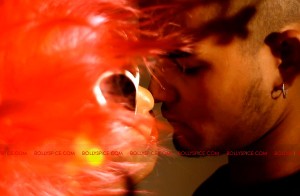 Q, one of the most controversial yet critically acclaimed directors in India, is excited about this one off performance: "Gandu Circus was born out of the film. But swiftly, the band developed its own voice and feel. It was very intense, to observe the morphing of the music, from punk rock to electro, and the establishment of a confident tone. It was as if Gandu leaped out of the film and decided to get on with it. Jiver and Neel give the band the unique sound, and set it up for me to shout and scream and make a complete nuisance of myself."
"For me, it's a beautiful dream, to be performing in London now, especially at BFI Southbank – the home of British cinema. Susheela Raman will be joining us in this gig, which is absolutely f***ing crazy. I am overjoyed and dying with nervousness at the very thought. She's the queen of indie Indians. This one is for the movement, right! Also, there's Steve Chandra Savale, our main man from ADF. Finally, Gandu's dream will be fulfilled," adds Q.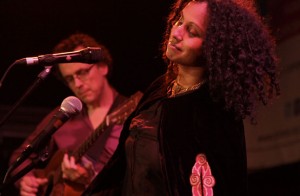 Susheela Raman is as enthused: "I got to know Q on my travels to India and was immediately struck by the intensity and fearlessness he has and which he brings to his work. I loved the idea of the film being about a rebel rock musician in Kolkata and the taboo-shredding edginess of the whole Gandu concept. He's a visionary, in terms of pushing boundaries of Indian cinema and it's a real bonus that he is a musician as well as the filmmaker. We were looking for an opportunity to perform together and the London Indian Film Festival provided just that."
Raman continues: "Collaborating at the BFI, with Sam Mills on the guitar, and the Gandu Circus, is going to be a real adventure. I most recently performed at the South Bank during the Alchemy Festival, bringing together Pakistani Qawwali with my London and Indian based sounds, and the audience and media response was amazing. To be back, with something like this, a world first, is indeed exciting. I've been following the London Indian Film Festival since inception and their programming is something I feel has filled a gap in cinema. Last year, my mate Raghu Dixit performed at the festival and this year, this event at BFI is set to push some boundaries, just like Q's film Gandu has done."
View the Gandu Circus Promo here (contains adult themes) – http://vimeo.com/41081560
Gandu + Gandu Circus | 21 JUNE | 18:20 | BFI SOUTHBANK
India's most radical director Q delivers a tour de force, which has excited festivals around the world. Twenty-year-old Gandu lives with his single mum in a dingy Kolkata flat. She has turned to sex work to make ends meet. His life revolves around the local internet café where he overdoses on videogames and porn until one day he bumps into Rickshaw, who introduces him to hard drugs and together they slide into a dark fantasy world where angry rap lyrics melt into visitations by the goddess Kali and an alien sex kitten. Listen out for a stunning music track inspired by the UK's Asian Dub Foundation. The film contains some sexually explicit imagery so don't bring your mum!
The Arts Council of England supports this exciting special concert event. London Indian Film Festival is supported by Film London's Cultural Film Exhibition Fund through the National Lottery on behalf of the BFI. Partners include Arts Council of England, Cineworld Cinemas, Western Union, Incredible India, Grange Hotels, Skillset, The Nehru Centre, BollySpice, Asiana.tv, Zee TV and Eastern Eye, amongst others. The opening and closing nights of the festival are supported by Sanona, a brand new on-demand pay per view film service.
Tickets are currently on sale at the BFI Southbank. www.bfi.org.uk/