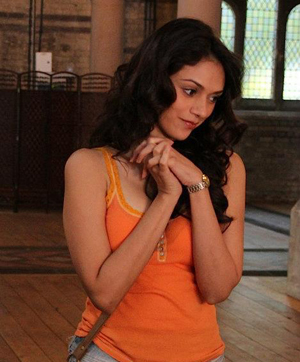 Aditi Rao Hydari certainly caught everyone's eye with her debut performance in the Tamil film Sringaram, which went on to win several National awards. She, of course continued acting and worked both in the South and Hindi film industries. It was her lead role in Yeh Saali Zindagi that led her to her starring role in London Paris New York. But more on that tale in a bit… In LPNY, Aditi takes on the interesting character of Lalitha and her journey of finding who she is and finding love. In the rom-com with a bit more, Lalitha and Ali Zafar's Nikhil, over a period of eight years meet and romance for one day in London, Paris and New York. Does their love continue on after that day in New York? Well, we will find out on March 2nd when it hits cinemas. It is always wonderful to chat with a star about their film, but when they are truly passionate, excited and really nice and you can get into a conversation rather than just a Q&A that makes it so much better. That happened with Aditi, who chatted with us about LPNY this week. Have a look at the fun, the fabulous and interesting conversation we had about the film!
How did you get the role?
Well, I had a promo for the film Yeh Saali Zindagi on air and soon after that this Airtel ad of mine came out and the producer saw that. At the same time the script was sitting on their desk and my manager who had just signed me on was sitting in their office. They didn't know that she was my manager but they said that you know we are looking for this girl from this film and this ad and my manager said, 'Oh she's with me'. That's how they contacted me with the script. Literally I read two pages and I said I wanted to do this film.
Your character goes through three quite different stages in the film…
Yes, she does. Lalitha is 19-20 and she's going to study politics because she wants to "change the world" she says. She's an idealistic, innocent, simple girl, from a middle class family in India. And she's grown up in a country rooted home but they've also given education a lot of importance, which is why she's leaving home to study. At that period she meets this boy who's completely from a different world. He is going to film school and his father's paying for his entire education. She thinks things over and over again and he lives in the moment. I think their worlds are just so different that they find each other very interesting and there's an instant connection between them. I think slowly they start finding each other more and more interesting and then they have to part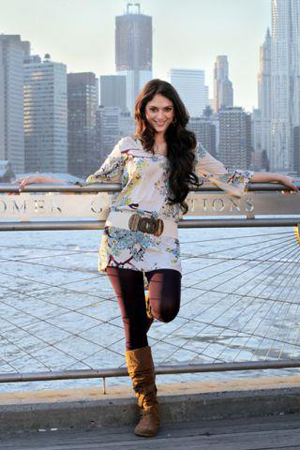 because their lives are going in different directions. Something happens and for two years they don't meet. They meet again in Paris where obviously certain things have happened, which are revealed in the film later and she's a very changed girl. She's kind of cold and aloof and she has this 'been there, done that' kind of facade where she's got a slightly prickly exterior, which hides a very, very vulnerable interior. I think that innocence that she has, that purity of heart is retained but she tries to cover it up. You know that happens when one is very vulnerable and one has been through too much, you really hide that because you want to protect it. And she goes through that and they meet again and spend another day together in Paris and again something happens and they have to part. Then they meet in New York six years later and they both have become a little more settled in their lives. They've accepted who they are and they're a little gentler on themselves, on each other and on the world. So they are not fighting with the world. It's basically the story of these character, the growing up of two people, the growing up of their relationship and where that relationship heads. What it is that makes them connect or disconnect… it's that. It's a very today story. It is actually how relationships are today and it's written in a very real kind of way. There are a lot of people I think would connect with it and the kind of things that happens in their lives.
It must have been interesting to play her in those three different stages.
You know it was, absolutely. It was very interesting. I think what was best about it all is that you can almost play it like three different people, but I think what was nice is that that basic core of a very pure, vulnerable, innocent heart remains throughout. That childlike heart that she has remains throughout whether it's in Paris or in New York. I think that as an actor to have that exterior of trying to be somebody, but actually in little, little bits that little heart beats out – I think that was very exciting. That was fun to do.
I bet that was a challenge almost, because you have to have that little flicker that she is still the girl that she started with.
Yeah. Exactly and I think if you've really changed as a person and become somebody else then that person will not connect to you because that person fell in love with you at first for a reason. But he connects with the girl every time when he meets her. So I think that, that core quality had to stay alive in the girl.
So working with Ali Zafar?
Ali is fun. He's got really great comic timing. He's kind of effortless when he acts. I think we both fed off each other in terms of energy. I think it's fun working with an actor who goes along with you rather than tries to fight for his own space, you know? Because a film is about working together, it's not about trying to outdo the other person. When that is your intention of making the film work and making the story work together, I think that's when you can bring out the best in each other. I think that was very important. It's like a relationship but in a different kind of way.
Tell us about working with director Anu Menon.
You know, a lot people asked 'It's her first film how do you think…', but I believe whether if it's your first film or 26th film, as an artist you have to keep that childlike excitement and innocence alive in you. I think what matters more is your conviction in that project and how much you have lived that project as in you have breathed that project. And I think Anu was completely in sync in terms of with her script, and her film, and what she wanted, and what she wanted the characters to sound like, to look like, to behave like, everything – she knew exactly. She was very open to suggestions. I think it's lovely when a director or any actor is devoid of that heavy ego. Anu was so completely open. If we've discussed something and we said, 'No, no Anu, we feel that it should be done another way', she would be like 'Okay. Yes, you are right, let's go with that. That was a good idea.' It's nice to have that because quite often it can get into a difficult space and she was completely very open and transparent in working with us.
I think in this type of film you would almost have to do that since it is just the two of you going through this…
Exactly! I think that's why this experience has been a special one because every single person on the unit has to be completely in-sync with everybody, with the film, with each other, everything single unit member and I think that's why it makes it a very happy and special experience.
You also sang for the OST. What was that experience like?
You know it was a lot of fun. I've always been a very reluctant singer because I've never really learnt. However, my mother is a classical singer and I've obviously got some good genes from her because my mother always says I started singing when I was 6 months old, before I even started talking and only it was humming tunes correctly. But for some reason when I was five, I told my mother I didn't want to sing I only wanted to dance and that's exactly what I did. So I have always been a reluctant singer but Ali managed to change that. I happily went to the studio and recorded these two songs and it was a completely fun, chilled out experience. I wasn't nervous at all. It was fun!
Favorite song of the two?
My favorite is the love song its called 'Thehree Si Zindagi'. I really like that song. It's a very beautiful song. It stays with you, makes you feel happy. Actually that song is very interesting, because that song has sadness but it makes you feel happy in that sadness almost.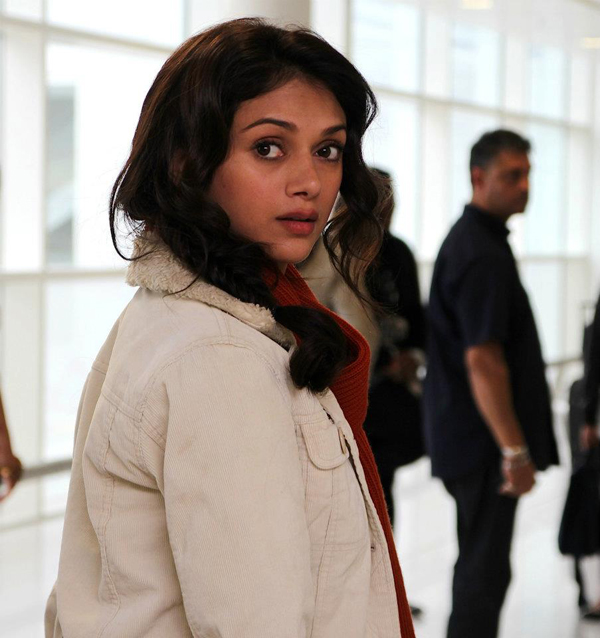 Tell us about shooting in London, Paris and New York.
Great fun, because obviously they are the three most 'wanted' cities (laughs). Everybody wants to go there. They were very different experiences. I think that the cities reflect the emotional states of the character, which I thought was a very interesting thing about the movie. So London being warm and sunny and friendly and that's where the characters are innocent and sort if getting interested in each other. Paris being very beautiful but very intense with all that gothic architecture so Paris was darker and more intense. And New York being that buzzing city with all that energy – New York is a city which allows you to be who you want to be and that's what the characters are in New York. They are who they want to be. And our experiences were like that in these three cities, so it was quite incredible actually.
I love that, that the imagery of the cities reflect the characters…
Yeah! In Paris we had such a hard time and we used to laugh and say it's the toughest part of this film and probably that's why we are having such a hard time.
What do you think audiences are going to love about London Paris New York?
You know one obviously makes the film with the hope that audiences are going to like it. But I think with this film – it's honest and sweet and at the same time it's the kind of film that connects with you immediately. Like I said when I read the script, I read two pages and I called them. I said, "Look I'm going to finish the script, but hold on because I really want to do this." This film is about connections in every way whether it's between the two characters, whether it's with the script, whether it's with unit members. I think everything comes with a destiny and this particular script and this film has that destiny of those connections. I think that the audiences will also have that instant connect with these two characters and this film and their lives. It's also very beautiful and fresh and energetic. I mean it has got a very youthful freshness and at the same time it's also a little heavy. I think that's also a nice thing about it.
I would like to thank Aditi for the great conversation and wish her all the best. You can see London Paris New York very soon because it is in theaters tomorrow March 2nd. Be sure and check out our Ali Zafar interview too!