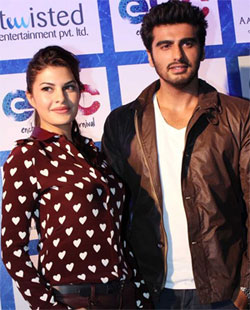 B-Town friendships are rare, as actors often compete with each other in the rat race. But amongst all this, a new attitude from a young generation of actors is emerging. Popular actor Arjun Kapoor proved this when he complimented actress Jacqueline Fernandez on Twitter recently.
Arjun, who is yet to be seen acting opposite Jacqueline onscreen, seemed to already be impressed with the beautiful lady. On being asked what he thought of the actress by a fan, he replied, "She's by far the most positive soul in this world." And what a huge compliment that is!
Jacqueline Fernandez is known in the industry not only for her professionalism but also for her charming personality. The actress has many well wishers in the industry and now looks like Arjun Kapoor is also one of them.
Hopefully we will get chance to see the duo together on screen soon!