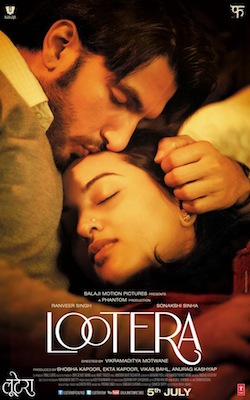 Lootera is the upcoming period romance from director Vikramaditya Motwani (Udaan) and stars Raveer Singh (Band Baaja Baraat) and Sonakshi Sinha (Dabangg) in pivotal roles. Amit Trivedi (Dev D and Ishaqzaade) has composed the 6-track original soundtrack for the film as well as the background score while Amitabh Bhattacharya (Band Baaja Baraat and Agneepath) has penned the lyrics. Vocal talents featured are that of Shilpa Rao (English Vinglish – Title Track), Monali Thakur ('Khwab Dekhe/Sexy lady' and 'Zara Zara Touch Me' – Race), Swanand Kirkire ('Raat Hamari Toh' – Parineeta), Mohan Kanan ('Yaariyan' – Cocktail) with Amit Trivedi (Aisha – Title Track) and Amitabh Bhattacharya ('Iktara' – Wake Up Sid). Selected tracks also feature the Chennai String Orchestra.
Lootera hits the silver screens 5 July 2013.
Ankahee could not have been a better track to commence the album. It is the album's once-upon-a-time and tells of a untold story. Amitabh Bhattacharya beautifully renders the equally well written track. Bhattacharya's references to ink and papers adds a nice touch to the track which quite simply may or may not be setting the stage for the film's narrative. Musically the track is very impressive, Trivedi's choice of strings and marching-band-esque drums works unbelievably well.
Manmarziyaan is sung by a Trivedi favorite, Shilpa Rao, along with Amitabh and Trivedi himself and though it is a slow paced track, the amazing amalgamation of instruments used in this track astounds one so much that its pace goes more or less unnoticed. Shilpa has a knack for exuding strength and sweetness in equal measure expertly and she does just that with these track. In doing so she does Bhattcharya's lyrics justice and matches the subtle intensity of the track perfectly.
Swanand Kirkire is at the helm of Monta Re with Amitabh's supporting vocals sparsely interspersed throughout the number. It is a traditional folksy number that is moderately paced. Kirkire embodies the folk element perfectly. Amitabh's version of love's symptomology is charming and endearing and choice of words do bring a smile on your face.
Sawaar Loon has an obvious yesteryear vibe to it, mostly due Monali Thakur's vocals which loosely yet pleasantly mirrors that of Lata Mangeshkar and Asha Bhosle in the early to mid 60s. Once again Bhattacharya's lyrics are impressive and the word choice keep with the period the song is set in. Musically, it has an infectious beat to it, not quite catchy as the ghooda-gadi beats of the mid to late 50s (See: 'Tumsa Nahin Dekha' – title track) but cute and sprightly all the same.
Mohan Kanan and Amitabh's Shikayantein does not start off that way but slowly makes it way to become a pseudo rock ballad with a classical flare. It has amazing orchestration with well penned lyrics and stellar vocals to boost. In short, a winner all the way!
The album closes with Zinda sung by the man himself, Amit Trivedi. It carries on from 'Shikayatein' in that it has a beautiful and strong orchestration at its heart. Lyrics are inspirational yet uncharacteristically pragmatic which makes the track it's own kind of beautiful.
In conclusion, Lootera features a great combination of lyrics, music and vocals. Its beauty lies in its quiet intensity and Trivedi proves yet again why he is one of the best composers of this era. It was certaintly refreshing to hear a album without the formulistic chartbuster hooks and silly item numbers. Also, the emphasis on lyrical quality was very welcome. The entire album is extremely likable, however if one must reduce the tracks to any form of a rank, 'Manmarziyaan', 'Shikayatein', 'Zinda' and 'Ankahee' would come out at the top end of the spectrum with with 'Sawaar Loon' and 'Monta Re' as close runner ups. Loteera is strictly one of the better albums of 2013 so do not give this one a miss.