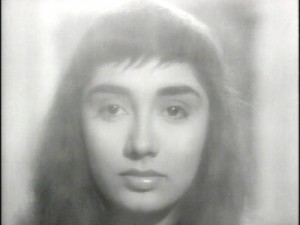 Everyone loves a Cinderella story and one that has a ghastly family, a spunky heroine, and one Prince Charming who can be a bit of a dope some of the time! The film, which introduced the lovely Sadhana to the screen, is one of the most fun and charming romances of the 60s. Love in Simla was one of the biggest hits of 1960 and deservedly so, the sparkling repartee and gorgeous cinematography makes it a gem to enjoy even now.
Unlike most Cinderellas who are the docile type, Sadhana plays the plucky and feisty heroine Sonia. She's the unlucky orphan living with her genial uncle (Kishore Sahu), his tart-tongued wife (Shobhana Samarth), and their beautiful but vain daughter Sheela (Azra). They live in luxury in their Simla mansion, while relying on Sonia as their servant and as a burden. Simla was once the summer playground during the colonial period, but the film captures an elitist family that carry on that lavish lifestyle. Going out dancing, and having lavish parties is the order of the day for Sheela and her folks, while Sonia is often left out.
Even with the dramatic storyline, Sadhana creates a heroine worth rooting for as she gives back as many insults to the haughty Sheela. Before she set trends with the tight churidars and trendy sarees, Sadhana dresses as a pretty cool hipster with her big glasses, high-waist denim trousers, and those wild Hawaiian shirts! Often the butt of Sheela's jokes, till she teases too far about Sonia's ugliness and inability to ever snare a man, Sonia plots her revenge. Sonia vows that she will ensnare Dev away from Sheela. This fight scene is poignant as it snowballs from insult to insult, which makes you feel the sadness when Sonia tears up. Even the arguments feel quite true, a stray comment soon turns into Sonia unleashing her pent-up frustration with the family that treats her horridly. It's a perfect scene for Sadhana, as she is such an expert crier and her pain feels so palpable here.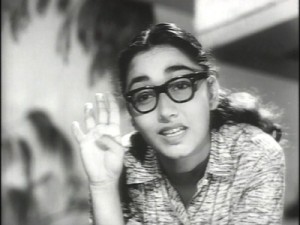 Sheela's latest paramour is the rich and very cute Dev (Joy Mukherjee – in his debut) who is coming to Simla to woo her, and just the right target for Sonia. After a few failed attempts at winning over Dev, who humours her but is clearly enamoured with Sheela. Thankfully the fairy godmother comes in the form of the very sassy naani (Durga Khote) who tells Sonia to cheer up and have a makeover! Out go the hipster glasses, and tomboyish look, and we get the fabulous and iconic Sadhana fringe, much like the Audrey Hepburn look. The film is simply wonderful for that moment alone, as a fashion star was born, since right after the film released there were countless gals cutting their in this signature way. It is quite amazing to see the transformation too, as the film takes long and glorious of shots of Sadhana.
RK Nayyar and Sadhana fell in love during the making of the film, and it's quite clear from the loving close-ups of the beautiful lady that we're about to become just as besotted. Sonia and Dev courtship is presented in such a charming way that we are rooting for her throughout. From winning a dance competition to the fabulous song 'Gaal Gulabi Kiske Hai' while dancing flamenco and waltzing, Sonia and Dev slowly fall for each other. Sonia lets Sheela sleep in with a little help from sleeping pills, as she gets up to hijinks with Dev all across the resplendent mountains and scenery of Simla. Sheela is upset with all the developments, and begs Sonia to relinquish Dev after she loses a beauty contest.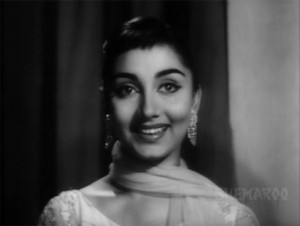 Of course, the film is not without its faults as our Prince Charming is a bit of an indecisive dope and flirts openly with both girls. He keeps his attraction to Sonia secret and feigns love for Sheela when near her. And when the melodrama comes in the latter half, all the fault is not placed on Dev, alas you can't have a Cinderella story without a bit of backward sexism. If you can ignore it and just appreciate as a witty little romance between Sonia and Dev then it's a lovely gem.
However, the film is all Sadhana's show as she gets to show off her understated acting and her effervescent charm. She makes Sonia, a firecracker, who unlike most heroines, tricks and plots her way to the man she loves. The movie is a perfect debut for both Mukherjee and Sadhana who make a very spirited and sweet couple, and they repeated their initial success with EK Musafir Ek Hasina. As with every love triangle, there is a Miss Left-Behind, and Azra is funny and very mod as the covetous Sheela. The music by Iqbal Qureshi is equally melodious and classic. From the fun numbers like 'Eh Baby' and 'Dil Tham Chale' to the 'Haseeno ki Sawari' he showcases an amazing versatility that makes you wish he did more soundtracks as enjoyable as this one.
Love in Simla is a complete gem of the 60s, replete with a frothy romance, a famous makeover, and one heroine that set the trend and style for that age.