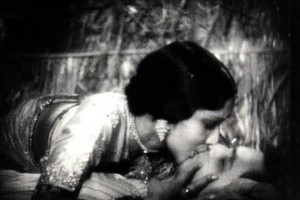 You may be surprised to know that it was as early as 1929 that Bollywood had its first ever lip locked kiss. Based on the Indian epic The Mahabharata and starring Seeta Devi, that film was A Throw of Dice. This kissing scene would perhaps shock some viewers even today. More than 80 years later, it seems that the kiss or any type of sexual intimacy in an Indian film is still somewhat frowned upon. Seated in a London cinema whilst watching a Bollywood film, it is more than likely that you have heard a gasp- a surprised/shocked/uncomfortable (oh my gosh…but this is supposed to be a Bollywood film!) gasp from someone in the audience. The hero has kissed the heroine…and it is right on the lips! The gasp isn't enough to mask this so someone tries to help by loudly scrunching on popcorn or slurping their Pepsi.
Kissing does indeed still raise an eyebrow or two but this has not barred the kiss from Bollywood. Love Aaj Kal shows the dilemma of the kiss. Jai (Saif Ali Khan) is pursuing Meera (Deepika Padukone) and after some flirty rejections, Jai eventually woos Meera. They both find themselves sitting side by side in a car. This episode humorously raises the issue of surpassing physical boundaries – both in a real life relationship and also in an Indian film relationship. Jai pokes Meera on the arm…Meera pokes Jai on the arm. The poke moves from the arm and onto the face… Jai mischievously goes for the first kiss planted on Meera's cheek. Meera happily returns the favour. Jai is not one to let the opportunity go amiss and aims straight for the lips. The kiss is short and sweet…followed by a frantic "Kaun dehka?! Kaun dehka?! Kaun dehka?!…Koi nahin!" (Who saw that?! Who saw that?! Who saw that?!… Nobody!) This leads onto a longer kiss, but the camera moves away quickly, leaving the rest of the smooch to the imagination.
So, the Bollywood kiss maybe uncomfortable but it is not an unusual occurrence in today's films- especially if the film has Emraan Hashmi in the lead! Kissing aside…how far can Bollywood go? With, the recent release of Kya Super Kool Hai Hum, Jism 2, the Bollywood erotic thriller, which is releasing this week, the upcoming Kareena Kapoor starrer Heroine and the recently released song 'I want fakht you' from the film Joker, plus many more, Bollywood is certainly steaming up. The rise in raunchiness is causing a reaction amongst Indian Society. Jism 2 has recently caused a stir due to its sexual content. Activists in Amritsar protested against Sunny Leone (Indo Canadian porn star and the female lead of Jism 2) and the sexual material in the film. 'I want fakht you' being the original lyrics ('fakht you' meaning 'just you' in Marathi) have been altered by the film makers from 'fakht you' to 'just you'. Actress Chitrangada Singh explained to India Today that the change was implemented because 'some people found it (fakht you) offensive, but that is not the intention of the film makers at all'.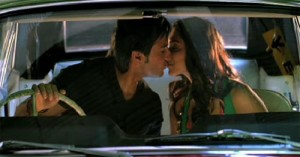 How far can film makers go to express desire? Is Bollywood becoming more 'sexual' than before? Or is the mode of expressing sexuality changing? Sexual desire has always been a part of Bollywood but has been so in a very subtle fashion. Sexual desire has found its way into Bollywood through innuendos and one form of expression is through the Bollywood song. The Bollywood song is not just entertainment but has an important purpose. It can be seen as a form of 'soliloquy.' The song can give license to a character for expressing anything and everything without restraint. So it is no surprise that sexual desire finds a comfortable place within the Bollywood song. Sexual innuendos are paramount in Bollywood songs and are waiting to be found! For instance the song 'Zara Zara' (Rehna Hai Tere Dil Mein) is not shy in expressing sexual longing for a lover:
"zara zara behkte hai mahekta hai,
aaj tau mera tan badaan mein pyaasi ho,
mujhe barle apni bahoon mein"
"I become lost, I flourish,
My heart and my body both long for you,
Take me into your arms"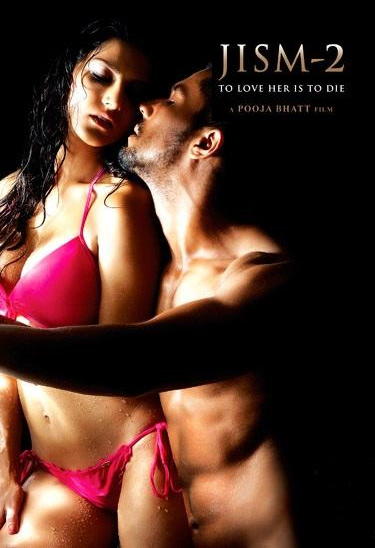 'Chunari' (Biwi Number One) is a flirtatious song where the lover is being provoked to 'come and touch the veil'. What's more, it's made clear that not a word will be said about this to anyone as her youth has taken over her. This isn't a favour she is bestowing upon her beloved but she is being tormented by her youth and it is her decision to satisfy it:
"Aaja na choolae meri chunari sanam,
Kuch na main bhoolo tujhe meri kasam,
Aayi jawani sar pe marae
Tere pe kya karu,
Jawani pe rahem"
"Come and touch my veil my love,
I won't say I word I promise,
My youth is tormenting me,
It is not a favour to you,
It is a favour to my youth"
The item number takes the sexual innuendo to another level. Sexual connotations are freely played on whether through Sheila and her jawani or Munni with her badnaami. With more and more item numbers being prevalent in Bollywood, is sex being made into a song and dance simply to sell or are sexual boundaries being broken to allow for greater freedom of expression? Should sexual scenes be an issue if they are vital to the script? A first kiss is definitely a pivotal point- be it in a film or in real life.
Films give versatility and freedom for art to be created and sexual content should not be frowned upon but perhaps the viewer should question what this scene means to the film as a whole. It is clear that to avoid controversy the film maker must carefully judge where the boundary for expressing sexual desire lies. The song in a Bollywood film serves as an opportunity for sexual desire to be expressed through clever innuendos. Perhaps the reason why the innuendo works so well is because the audience is left a free choice to either ignore the sexual desire…or to acknowledge it.