Ok, so by now, it is pretty much known that Loveshhuda has an unusual plot since it is 'a love story that starts in bed'. However, this isn't the only thing that is unusual about the film. Reason being that this is just a starting point of the film and there is a lot more that debutant director Vaibhav Misra has added to Loveshhuda, which makes it a post-Valentine's Day weekend entertainer.
"It may seem that the film is all fun-n-frolic, considering the vibrant appeal of the promo and chartbuster party songs like 'Peene Ki Tamanna', 'Dono Ke Dono Single', 'Chitta Kukkad' & 'Total Talli', with haunting melody 'Mar Jaayen' However, don't leave it just at that. There is a lot more waiting to be unveiled. The unusual love story may begin on bed but this isn't all that the film is all about," a source attached to the film hints.
Considering the fact that Girish enacts the part of a youngster who meets a striking girl (Navneet Dhillon) on his bachelor's night out, one wonders what could possibly still be concealed in the film's armor.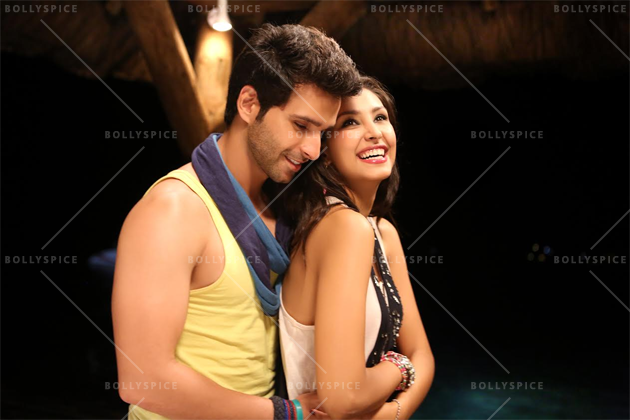 "Well, a lot," chuckles our source, "This is 2016 – You just can't have a film which is conventionally convenient. Okay, so boy meets girl on a drunken night, and then possibly falls in love. What else? This could well be wrapped up in the film's narrative in 30 minutes flat. What happens in next hour and a half is something that makes Loveshhuda special."
In fact it is this 'something special' that bowled over producer Vijay Galani who instantly decided to back the film with Girish and Navneet.
"He felt that the twist in the tale is superb and would surprise quite a few," the source adds, "It is due to this reason that the interval point becomes really important for Loveshhuda, as audience would be left asking for more in the second half. The film has turned out to be quite endearing and for those who are suckers for love story, the entertainment quotient that Loveshhuda brings on would be lapped up big time."
Considering the fact that Valentine's Day has just gone by, for those looking at continued celebration of love with the one closest to their heart, the release of Loveshhuda – a romantic musical entertainer with a twist – couldn't have been better timed.