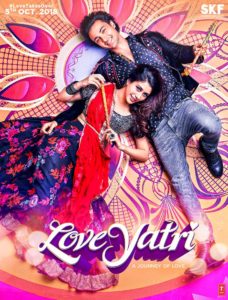 Diversity is the name of the game today, with Indian films being applauded by audiences around the world whether they be in Hindi, Punjabi, Tamil, Telegu or any of the regional film industries that make up the Indian film industry. These films go to festivals, get re-released on screens everywhere and with the aid of dubbing and subtitles everyone in the world can appreciate what Indian films have to offer. This has also meant films are being made in Hindi with enough elements of a region and its language to make audiences feel they are not in Mumbai or New York but in the middle of Baroda. This is what Loveyatri, a Salman Khan Films production, is trying to do. The flavour of Gujarat and the beauty of its language are brought to a Hindi speaking and understanding audience, to give a local perspective on a classic love story. It's album is made of 9 solid Gujarati beats and is brought together by the team of Tanishk Bagchi, Lijo George and DJ Chetas.
Mandolin and acoustic guitar back up an opening hum by the singer Darshan Raval in the opening song Chogada. As the story is centred around the love story that begins during this song, it's got to be both an instant superhit as well as stick strictly to the rules of garbha. So, it's not long before the drums take over and bring the listener to the dandiya floor. A mixture of Hindi and Gujarati lyrics, the Gujarati being saved for the main chorus line "Chogada tara, Chabila tara, Rangila tara, Rangbheru jue tari vaat re." If dandiya is your thing then it's a fine song but as a love song or rather beginning of love song it certainly fails to go anywhere and the music is not leading listeners forward.
Akh Lad Jaave is led by Asees Kaur and a sensual but obvious club beat. This could be a cabaret piece with Baadshah coming in half way to give a static and short performance. Thus, its between Asees who shows off her smooth and clear singing along with upcoming super singer Jubin Nautiyal who seems to play more in the background. If what you want is sex on the dance floor this hits the mark.
No love-based film could do without Atif Aslam providing his smooth drone for that moment where the hero experiences the sweet sadness of losing his heart. In this film we have Tera Hua. Backed by nothing more than a drum and synth, there is a club scene here too in the bridges which keeps the song interesting. Otherwise this song is a slow formulaic song that everyone has heard before.
Back to garbe ki raat, with the girl's side of things in Dholida. Udit Narayan provides background to Palak Muchhal and Neha Kakkar as they go for an even more traditional sounding dandiya. There is heavy use of a mandolin to keep the focus on the love story as the dandiya slowly fades away into the background. This brings back reminiscence of 'Nimboda' from Hum Dil De Chuke Sanam, of course a Salman Khan classic.
No Gujarati feel could be complete without Dev Negi so here he is for Rangtaari. Beside Yo Yo Honey Singh, this is traditional Navratri done tongue-in-cheek. Certainly, it's another go at 'Dhum Dhum Dhol Baaje' again from Hum Dil De Chuke Sanam but still manages to have its own flavour. Even though the instrumentation is exactly what you would expect as are the beats and rhythms, there does seem to be something a little extra in the melody and with Yo Yo, audiences have come to expect reworked versions of known songs. This could be an ending song as it seems to be both a festival and a celebration of the hero's victory with a certain tip-of-the-cap to Yashomati maya as if to say thanks.
From the ending song to the title song in Loveyatri Title Song. Sung by Divya Kumar it's mostly Gujarati and is an easy and light love song. Being short and punchy means the song doesn't have the chance to get going and even the addition of the heavy drums to get everyone thinking on Navratri doesn't really change anything up in this piece. It simply does its job but wouldn't be something a listener would add to their playlists as the only song from this album.
The last 3 songs on the album are re-versions of earlier songs. Listeners are treated to Chogada (Unplugged) between Darshan Raval and Lijo George, Tera Hua (Unplugged) with Atif Aslam and finally Loveyatri Mashup with everyone. 'Chogada (Unplugged)' loses all the heavy instrumentation of garba and becomes a soft love song with acoustic guitar and ektara which gives it a very sad feel overall which is added to by a tempo slow down. 'Tera Hua (Unplugged)' reminds us why Atif Aslam is so in demand in Bollywood, with a powerful rendition of his earlier piece backed only by acoustic guitar this time. He increases the sadness of the tune here by giving it an even more powerful feel with an ending that seems to leave everything hanging. The 'Loveyatri Mashup' is simply a compilation of the best bits of the album pushed through a radio speaker.
It's a great deal of pressure to hang a whole film of the events of 1 song which seems to be what has been tried here with 'Chogada'. If this song is not good enough to handle it, whatever comes next is always tainted by the stain it leaves. It is a damning inditement to this album that the re-versions at the end have more power and emotion then all the songs above and that the entire album could be mashed up into 1 song. But, this film is a 1 issue candidate and that issue is Gujaratiness. The only reason the film is any different from a hundred others made over so many years of Bollywood is its willingness to aim at the Gujarati audience and show everyone else watching what it means to be Gujarati. In effect, this is a patriotic movie done specifically for Baroda. Thus, in rating this album the question is does it do its job here? And the answer is very much yes. On the other hand, in doing this job has it entertained audiences who, in this case, aren't Gujarati possibly past a "Khem Cho"? The answer here is no.