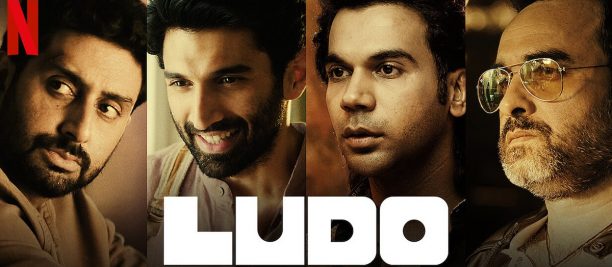 Ludo leaves you feeling confused, frazzled but ultimately it leaves you with a smile on your face and I guess that is what matters.
Anurag Basu pens a very complex screenplay weaving five storylines around absolute utter chaos! Honestly I cannot tell you what Ludo was about but I can tell you that it deserves your 2.5hrs. As the film progressed I was bracing myself for the moment when the writer and editor would lose track and this would turn into an utter mess but thankfully it does not get to that stage. The stories effortlessly intertwine with each other into an edge of the seat outlandish yet heartwarming satirical thriller. Props to writers Anurag Basu and Samrat Chakraborty and editor Ajay Sharma for keeping it together. Yes, naturally the movie does lack momentum at parts but somehow you become reengaged in no time.
The cast boasts of the whose who of scene stealer. Pankaj Tripathi plays a dawn for the umpteenth time yet manages to bring something fresh to this depiction as well. Rajkumar Rao features as the loyal lover Aalu whose love knows no bound. Fatima Sheikh is the ignorant subject of Aalu's adoration and she plays her character with such perfection! They truly were the highlight of the film for me. Abhishek's story features an adorable child artist, Inayat Verma so it naturally pulls at your heartstrings rather effortlessly. Aditya Roy Kapur and Sanya Malhotra feature in perhaps the more main-stream of the stories as the "casual" couple struggling to keep things casual. *Yawn* Lastly there's newbies Rohit Saraf and Pearle Maaney whose story starts off as being the most interesting of the lot but somehow it does not manage to retain my interest as it progresses.
Ludo perhaps fails in getting across its overall theme or message, if it had one. I think it did with Anurag Basu playing sutradhaar and trying to tie it up in a nice tidy bow for you but alas it was lost on me. Instead I just gave into the chaotic roller coaster ride p, which like Basu's Barfi and Jagga Jassos is very fresh, quirky and engaging. If you are not a Netflix subscriber, this one is definitely worth the trial sign up.