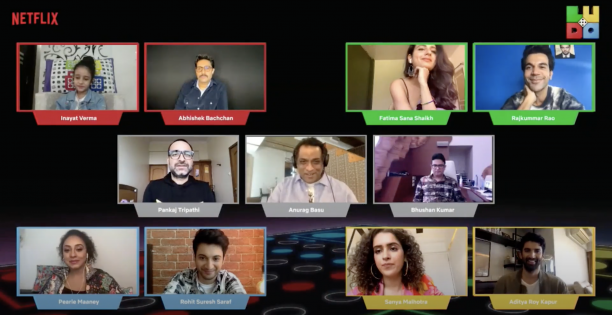 Ludo, produced by T-Series and Anurag Basu Productions, directed by Anurag Basu stars an ensemble cast consisting of Abhishek Bachchan, Aditya Roy Kapur, Rajkummar Rao, Sanya Malhotra, Fatima Sana Shaikh, Rohit Saraf, Pearle Maaney, Pankaj Tripathi, and Inayat Verma. To launch the trailer, they had a very cool chat in a virtual trailer launch. The cast along with the creators of the film – Anurag Basu and Bhushan Kumar were all in attendance.
First, check out the trailer!
What happens when life is a literal roll of the dice?
Ludo is about the butterfly effect and how, despite all the chaos and crowd of the world, all our lives are inextricably connected. Ludo is four different stories tied together by unavoidable circumstances and coincidences far beyond our understanding, all of which make up for a crazy caper of a film.
About the film, Basu said, "Ludo is unlike any film I've made before. It's been an adventure. It was fantastic working with such a talented ensemble, where each actor brought a unique vision and craft."
One of the most interesting things is that nobody in the cast really knew what the film was. Abhishek said at the conference, "I didn't know what the story was. I didn't know anything. If you ask any of the actors, I think they will tell you the same thing. My fear about this press conference is someone will ask us what the story is and we will say we don't even know. Everyone will say the same thing. One day Anurag Basu came to me and said that he wants to make a film, so we joined because of him. What happened after that we don't know."
He added, "At the end of the day, I think everybody was associated with this film because we got to work with Dada (Basu). He is somebody whose work I have admired for many years and we had been trying to work together. So I think it was a no-brainer. In life, it is also nice sometimes just to take a leap of faith."
Pankaj Tripathi agreed saying, "I always like taking road trips. This film was like that; a road trip but without a destination. We don't know what will happen next in life's script, but in cinema we do. The director will navigate my character."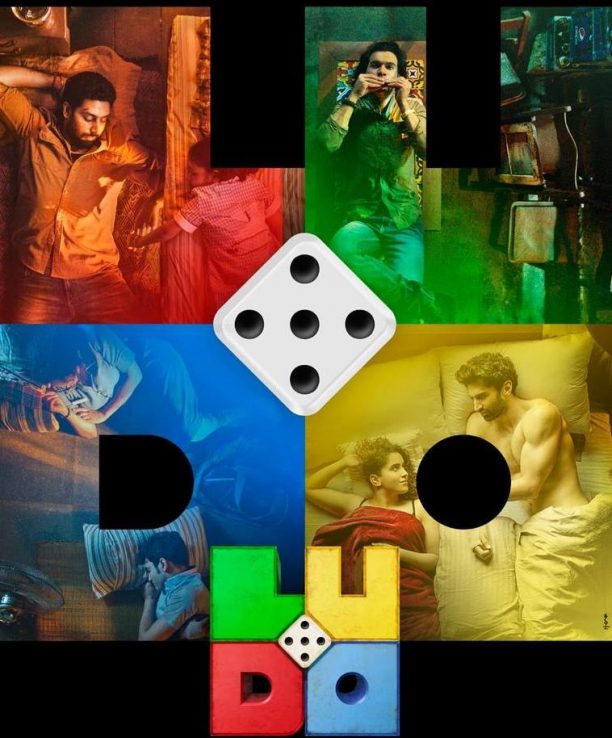 Rajkummar Rao had a very interesting take on his character from Basu, "Dada said that my character's name was Aloo because people will like him no matter what, you can pair the vegetable with any dish, be it 'methi' or 'palak', and it will become perfect. That was very interesting to me when you first gave this statement to me. I knew that if you [Basu] are making something, it would be something good."
He added that the director told him he looked like Mithun Chakraborty, "When we were doing our look test, we were testing different hair patches and you said that I look like Mithun Da I thought why not base my character on Mithun Da. I think it was such a good thing because as an actor I had so much fun. He dances when he is happy or sad."
Teasing Basu, Fatima Sana Shaikh said, he did not really have a script she heard but then went on to talk about her character Pinki, "This was the first time I was playing a character like this. I think she's a bit weird and has shades of gray. It was really fun. Usually, as actors, we try to keep the characters in a slot. We ask questions about how she will be, and what she must be thinking. But with Basu, this isn't possible, you cannot think. And I think that is the beauty of working with you. With Pinki, the character was just so raw, you were discovering her while we were working, you were making me explore her while we were shooting."
Aditya Roy Kapur plays Akash Chauhan, who has a Ph.D. in Mongolian Art in Mughul Architecture but he also is a ventriloquist, "It is one of the perks of being an actor, you get to learn new stuff. I had a very good teacher Satyajeet Upadhyay who was great and I just took it as an opportunity to learn something new. Also, it was an opportunity to mess around like the character. I didn't have much faith in my own dubbing skills so I just thought that we should do something new."
Call us intrigued! Catch the madness of Ludo, only on Netflix, on 12th November.