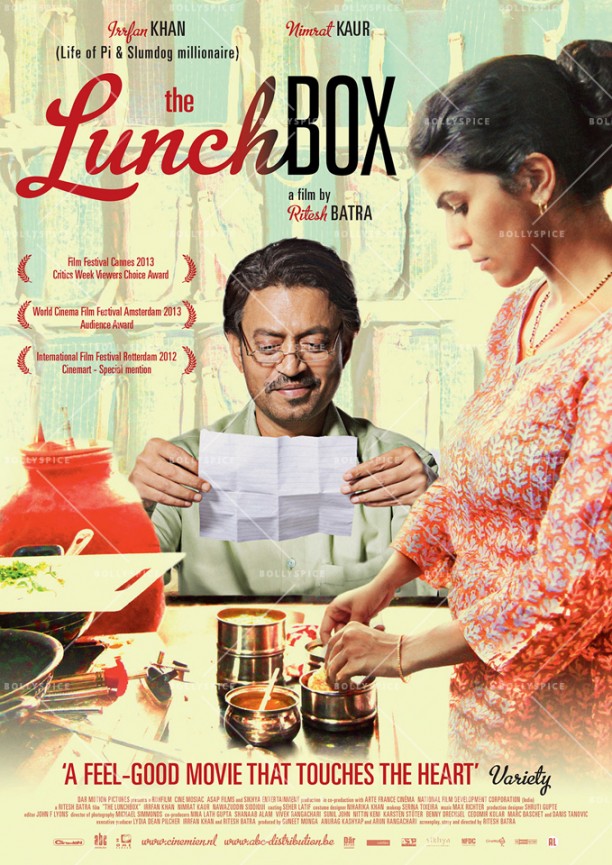 Described as a defining film in the history of Indian cinema, The Lunchbox which has won numerous domestic and international accolades in its slight over a year's run at the box office wins yet another award. Produced by Arun Rangachari, Anurag Kashyap, and Guneet Monga, Ritesh Batra's directorial debut which stars Irrfan, Nawazuddin Siddiqui and Nimrat Kaur was recently conferred the 'Film with the Best Return on Investment' award at the Star Box Office India's 2014 awards. Mr. Vivek Rangachari, Producer, DAR Motion Pictures and Guneet Monga from Sikhya Entertainment were present on the occasion to receive the award.
Critically acclaimed and globally loved The Lunchbox is a story about a mistaken delivery in Mumbai's famously efficient lunchbox delivery system connects a young housewife to a stranger in the dusk of his life. They build a fantasy world together through notes in the lunchbox. Gradually, this fantasy threatens to overwhelm their reality. The film's theme has universal resonance, and won over audiences at all the film festivals it was screened. The film is a compelling example of global collaboration with studios from India, USA, France and Germany coming together to produce a film that strikes a chord with global audiences. The top-rated film by critics in India this year, The Lunchbox was distributed in the US by Sony Classic Pictures.
Commenting on the award, Mr. Vivek Rangachari, said: "When the script of The Lunchbox came to me, I was sure this movie will do great but the kind of response we have got from India as well as globally is way beyond all expectations. DAR is really happy to be a part of the project which has created a new path for Indian cinema nationally and globally."
Written and directed by Ritesh Batra, The Lunchbox has released globally in various countries like UK, USA, New Zealand, France, Germany, Australia, Argentina, Chile, Paraguay, Brazil, China, Columbia, Malaysia, Italy, Israel, Hungary, Hong Kong, Japan, Poland, Middle East, Singapore amongst others. Furthermore, it has been showcased in various film festivals including The Cannes Film Festival, The Telluride Film Festival, The Toronto Film Festival, The London Film Festival, etc. winning various awards like Viewers Choice Award at the International Critics' Week, Best Film at The London Film Festival and The Filmfare awards, to name a few.
Produced by Arun Rangachari of Dar Motion Pictures (India) and Guneet Monga and Anurag Kashyap of Sikhya Entertainment (India), The Lunchbox has been co-produced by Vivek Rangachari, Nina Lath Gupta of NFDC (India), Karan Johar (Dharma Productions), UTV Motion Pictures, Shanaab Alam, Sunil John, Nittin Keni, Karsten Stöter and Benny Drechsel of Rohfilm (Germany), Cedomir Kolar and Marc Baschet of ASAP Films (France), Danis Tanovic and executive produced by Lydia Dean Pilcher of CineMosaic, Irrfan and Ritesh Batra.