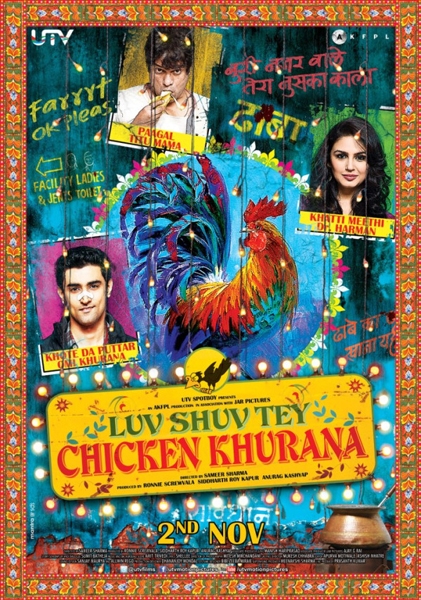 If you have not jumped on the Amit Trivedi bandwagon, it is highly recommended you hitch a ride soon because you have been missing out on one of the most marvelous musical experiences of this century. Having coming to the forefront with Dev D, Trivedi has been constantly blowing our minds with his wonderfully quirky and entirely entertaining compositions. 2012 has so far witnessed his Ek Main Aur Ekk Tu, Ishaqzaade, Aiyyaa and English Vinglish, each brilliant in its own way. Therefore, it is no surprise that we expect Luv Shuv Tey Chicken Khurana to carry on the torch. In addition to Trivedi, Luv Shuv Tey Chicken Khurana has Shelle (also knows as Shailendra Sondhi Singh) as its lyrist and features the vocal talents of Tochi Raina ('Saibo' – Shor in the City), Harshdeep Kaur ('Katiya Karoon') and Amit himself amongst others.
First is, Kikli Kalerdi is a witty take on a traditional Punjabi game ala ring-a-ring-a-roses played by young girls. Here, the game's format is used to illustrate the notorious escapades of cheating Ranjah who is in way over his head. It is written with a lot of wit, touch-in-cheek humor and clever innuendo. All these qualities are cleverly rendered by Trivedi, Ho Ho Honey Singh and Preeti Maidasani. Musically, the flute loop and the dhols/drums' back beat create an infectiously catchy number. The Hindi version, especially Ho Ho Honey Singh portion, is relatively better than the Punjabi version. Other than that, both versions are equally good.
Motorwada is a follow on from 'Kikli Kalerdi'. While the lyrics are as wonderfully outrageous at Kiikli Kalerdi, the music falls a bit short. That is, it is not as addictive as the former. Tochi Raina and Amit more than make up for it with an enthusiastic rendition. Raina, arguably outshines Amit as he tends to nail the Haryana nuances.
Luv Shuv Tey Chicken Khurana is a beautiful Punjabi duet by Harshdeep Kaur and Shahid Mallya. The lyrical back and forth is witty and sweet while the minimal traditional Punjabi music is easy on the ears.
Makkhan Malai, is yet another loud number but unlike 'Motorwada' and 'Kikli Kalerdi', it comes off as relatively noisy. Further the lyrics are sub par in comparison.
Luni Hasi appears as a duel track by Dalvender Singh and Harshdeep Kaur respectively. It is a soft romantic Punjabi/Hindi track despite Amit employing an energetic mix of techno/electronica throughout the track. Both tracks are equally good, however, arguments about the orchestration of one being superior to the other will not be uncommon.
Faruka Baadi gets off to a promising start, in that the ladies' (credited as chorus) portion is quite attention grabbing with 'FO' and 'teri maa behn ki' amongst other references. Labh Janjua then takes over the track and from here on the track takes on the form of a rather mediocre Punjabi dance number, the likes of which audiences have heard a 100 times before.
Luv Shuv Tey Chicken Khurana Theme can easily give its predecessors a run for their money, considering how unbelievably beautiful it is devoid of vocals. Tapas Roy's rabab reigns supreme and elevates this track from a mere filler instrumental.
In summary, Luv Shuv Tey Chicken Khurana is delightfully quirky in a way only Amit Trivedi can manage. However, one cannot ignore Shelle, the sleeper star of this soundtrack. His witty lyrics showcase an optimal grasp of Hindi, English and Punjabi as well as his comic genius. His articulate innuendo is particularly entertaining. Encapsulate it in a zany Trivedi creation with a good assortment of singers and you get at true hatke musical experience. That being said, the strong Punjabi lyrics may be off putting to those who do not understand the language. On recap, 'Kilki Kalerdi' is an obvious winner with his peppy tune and cheeky lyrics. Both versions of 'Luni Hasi' are close seconds with the title track and the theme piece bringing up the rear. The remaining tracks are mostly unremarkable even though listenable. In any event, Luv Shuv Tey Chicken Khurana is yet another impressive Trivedi creation for the records.