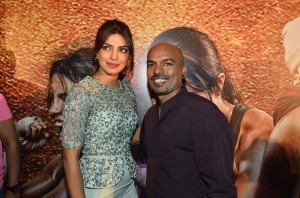 As we all know, Indian films and music go hand and hand. The songs are what make them so special and uniquely their own. It is the director, the music directors, the lyricists, and the singers who come together to create the musical magic of a Bollywood movie. Especially in Bollywood, where the songs many times take the story forward, the lyricist plays a special role in the telling of the tale in a movie. Today, we shine the spotlight on Prashant Ingole who has written the lyrics for the upcoming Mary Kom. We heard his lyrics in Race 2's 'Party On My Mind' last year and now he has written two of the most popular songs on the Mary Kom soundtrack.
Meet Prashant Ignole, as he talks about all things lyrical!
How did the job on Mary Kom come about?
I had this song called Party on My Mind (Race 2), which was a big hit last year, which now has about 20 million hits. At that time it about around 5-6million hits. I know Sandeep Singh, who is the CEO of Mr. Sanjay Leela Bhansali's company and he thought that I should meet the director of Mary Kom. He knew that I was passionate about my writing. I couldn't see anything else but writing. I went and met the director and we just connected. Then we spent time talking about the songs and then we began writing the songs.
So how does this process work? Is it words and then music, music then lyrics: How do you work to create the songs?
In India, it is from both sides. Sometimes it is the words that come first and sometimes it is the melody that comes first. Like 'Party on My Mind', it was the melody that was there first. The tune was there first and then I had to write the lyrics. One of the songs for Mary Kom, the first song 'Ziddi Dil', I wrote the words first and the music was composed on and around those words.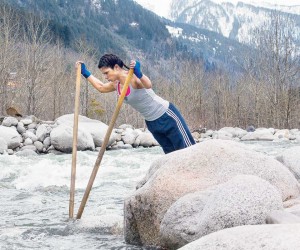 What was the brief that the director and music director gave you for the lyrics for Mary Kom?
For the songs of this film, I initially worked with the director first. The director gave me the script of the film and he said Prashant, go ahead and look at this. We have mentioned in the script where all the songs will be in the film. I took the script and I think I read it thrice. I read over it for about a week and a half and after that I wrote the first song 'Ziddi Dil'. I presented it to him and I said I think this goes very well with the character. I think she's way too stubborn. If you're not stubborn you won't rule the world. You won't you won't go ahead and become a five time world champion. So I said we can establish her character and I think this is the song. Luckily the director, the actress, Priyanka Chopra, and the producer Sanjay Leela Bhansali, they all loved it. They all loved the hook line of the song. Then it was sent for the musical composition.

The response to the songs, especially 'Ziddi Dil' has been great. How does that feel?
It makes me feel a bit numb, honestly speaking, because you know, I have actually been struggling for nine years. Every song I write, I write with the same passion. It is with that same passion that I wrote 'Ziddi Dil', which is the same passion I wrote 'Party on my Mind'… every song. But you know for nine years I struggled and now when these great things have started coming I am very numb. I don't feel the excitement, but at the same time this song is a favorite of mine. It is very special to me because I'm stubborn too. That stubbornness is how I survived and stayed in this industry for the past nine years. I just love the song. When I hear it gives me a smile on my face that I have done it! I wrote this! I relate so much to the lyrics of the song because they're not just the character's they are my projection as well.
How cool is it to hear Vishal Dadlani sing the words you wrote and with such passion?
You know, honestly speaking, I have been trying to meet Vishal for about three years to write lyrics for his songs, but I haven't been able to write for him and now I have written lyrics for this Mary Kom and he sings that song. It is such an honor for me that such a talented singer is singing my song, which goes on to be so popular and has over 1.5 million hits in just two weeks.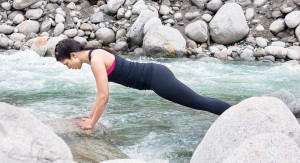 You also wrote 'Adhure'…
Yes, 'Adhure' and that is sung by Sunidhi Chauhan. That song is Priyanka Chopra's favorite song, it is Sanjay Leela Bhansali's favorite song, it is the director Omung Kumar's favorite song and it is mine as well. Sunidhi Chauhan went and commented on Twitter a few days ago saying, 'Adhure is one of the top ten songs of my lifetime'. I tweeted her something saying, 'ADHURE no more sounds ADHURE with UR rendition. Makes Mary Kom Complete'. And she replied 'Your pen has done the Magic 🙂 how beautiful it is…Thank u'
So what is 'Adhure' about and what inspired the lyrics for that song?
Adhure comes at the point when Mary Kom has been out of action for two years. There was her wedding and then after having twins, she wants to come back but at that point everybody has forgotten her. Everybody has forgotten who Mary Kom is. This song comes when she's trying to fight back. She feels as if she has lost everything. She has to fight back, to come back into the ring. 'Adhure' comes in when she feels that her dreams have been shattered and there is nothing left.
What did you love about writing the lyrics for songs?
Wow… what I love…. I think the love of writing in itself is such a beautiful love for me. I can give up anything for writing. I don't know why, but I just feel so happy. This is like fuel for me. For three years, I used to come from Pune to Mumbai, Mumbai to Pune and travel every day and everybody used ask me what is it all about? I was actually bankrupt for a couple of years in fact. But I said I want to do quality work. I just want to write. I just want to write and connect with people. If people listen to my party song and if they have a smile and then go ahead and enjoy it on the dance floor then I have achieved what I wanted. With 'Adhure', if someone is crying and connecting to the song and the lyrics and are like Wow we love this song! That's what I want, just want to connect with the people because God has bestowed and blessed me with this talent for writing and I just want to give it back.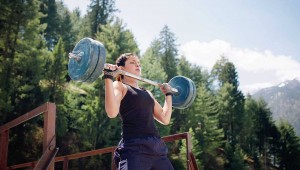 What is your opinion on song writing in Bollywood today?
It is a very tough thing. You have to be patient. You have to be persistent. You have to be Ziddi… you have to be very stubborn so that you don't want to leave. You have to be all in and you have to cut all your other options and just do one thing. To top it off, the basic thing is that you should be talented. If you're not talented you can't make it.
What about music in Bollywood today?
If you see the whole trend and you see the whole journey in India, in Bollywood, music really has been the face of the movies. It is the face value of any Indian movie. It has never gone out of fashion. Go back into the 1950s and 1960s when we started until today, every film has had good music. And whichever movie had good music has done well at the box office. So now, Bollywood is coming back to the basics where they want to make good music. That is a strategy now that a few people are playing, even if their scripts is not good, they go ahead and try and rope in good musicians to make good music to attract the audience to come in and see the film. It really is only three days, you only have Friday, Saturday and Sunday at the box-office after that you don't really have business in Bollywood. So if you have good music, it will bring them in and you get those three days from the audience. Music really is the face. I think it is very important… this is just as important as the script.
How does it feel to see your words come to life on screen, then have Priyanka Chopra and see your lyrics accompanying that scene on the big screen?
It is just like a dream… you are sleep and you are dreaming the whole night and suddenly in the morning you wake up and you're not in the dream – you're in the reality – suddenly it is happening. That is how it is.
After struggling all these years and I was waiting and writing and writing and writing. Thinking and trying that I want to write this right for this guy and I want right for that guy. I wanted to work with like Mr. Bhansali – I always dreamt of writing for him and I have written for his production now. Now suddenly I have started getting calls from everyone I wanted to work with. I am doing even more. In fact, I've already signed three big movies for next year that will release later in 2015.