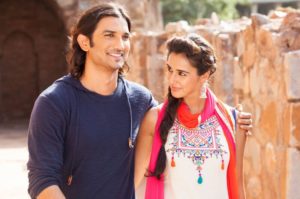 The much-awaited biopic of the celebrated captain of the Indian cricket team, M.S. Dhoni: The Untold Story, has been received with a fantastic response and secured the second biggest opening for a Bollywood film in 2016 in the India territory, following Yash Raj Films Sultan. The film grossed US$ 4.5 million in India alone on its opening day – the biggest non-festival, non-holiday opening.
The film was welcomed with unanimously fantastic reviews and excellent word of mouth.
Veteran actor Rishi Kapoor has praised the biopic and said the film's lead actor Sushant Singh Rajput has done a good job. "Saw film "Dhoni". Sushant was totally Dhoni! All characters did good. And the two new girls are sure stars in the making. Director splendid job," Rishi tweeted.
M.S. Dhoni: The Untold Story traces the life of India's best-known cricket captain Mahendra Singh Dhoni. Sushant plays the title role in the film, directed by Neeraj Pandey. The film also features Kiara Advani, Disha Patani and Anupam Kher in pivotal roles.
M.S. Dhoni The Untold Story is in cinemas now.