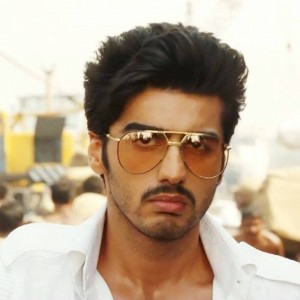 Arjun Kapoor has said how he is glad that he made the 'brave' decision of choosing to star in road trip movie Finding Fanny. Directed by Homi Adajania, Arjun will be paired for the first time opposite Deepika Padukone and will also be seen performing alongside acting legends such as Naseeruddin Shah, Dimple Kapadia and Pankaj Kapur, who together make up the '5 Odd Balls,' as described in the film's trailer.
"I was scared and apprehensive to begin with, but as the journey went on, I was more and more happy that I made the brave choice of doing an English film which is offbeat," said Arjun to the Indian media. Finding Fanny will release in both the English and Hindi languages and is based on a group of people who set out on a road trip to find Stephanie Fernandez, the woman whom Ferdie (Naseeruddin Shah) has admired and loved all his life without her even knowing.
Arjun was elated to know that the trailer has received over 2 million views on YouTube (just 2 days after its release) and gave this response. "For me, it's a film which the country (India) is ready to watch, and the fact that the trailer has received an overwhelming response is an example that people are willing to watch such content."
In addition, Arjun spoke about the great experience of working with a bunch of extremely talented actors on this project, as well as praising Homi Adajania for taking on known actors for such an unconventional film. "It was almost like going to an acting class…having such fantastic actors around. The idea is to do something different, keeping in mind that you can get eyeballs with these actors who are a known commodity for Indian audience." "Had Homi taken five unknown actors, it would have been a very niche film. But he has taken five known actors and set out to do something different. I think it's an intelligent choice on their part to mix known commodities with an unknown world."
Finding Fanny releases in cinemas worldwide on 12 September 2014! In case you missed the fantastic trailer, check it out here!