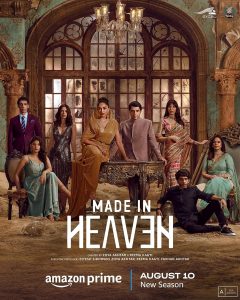 Made In Heaven , Season 2(Prime Video, 7 Episodes)
Four years after Zoya Akhtar and Reema Kagti whipped up a foamy but powerful series on two wedding planners, one on the verge of a divorce, the other happily gay. The entire cast of emotionally compromised characters is back, this time doing nothing that we haven't already seen them doing.
First, the comfort of the familiar. Adil Khanna is still cheating on his wife, Jaspreet 'Jazz' Kaur is still stealing fucks from a ground level worker. Tara Khanna is still grey. And yes, Arjun Mathur is still gay.
So how to spice up the status quo?
The new characters are interesting only if you examine their underbelly to see how stylishly they break the rules. Trinetra Haldar, a real-life trans-gender joins the cast as Meher, who we are led to believe, was a part of the Made-in-Heavan (wouldn't Made-in-Havan be more germane to the theme?) team at some point.
Meher is sloppily introduced to the plot with a 'Arrey tum kab aye' kind of awkward introduction. She is soon doing everything that trans-characters do in cinema, like getting violated by a creepy man when he discovers she has a vagina instead of a penis.
Problems, problems, I tell you. The characters here are burdened with huge problems like: which wedding dress suits a dark-complexioned girl and what is the purpose of pink champagne at a wedding.
What makes all of this trivia tolerable is the characters' selfawareness.
They get it. The life they lead does not define the world that exists beyond planned destination weddings , or if you want to be more Mumbai-specific, beyond Bandra.
"When did we become poor?" Tara (Sobhita Dhulipala), who lives with the inherent irony of being a wedding planner whose own marriage is on the rocks, asks her colleague and flatmate Karan (Arjun Mathur). This, I thought was the funniest line in the 7 hour-plus viewing experience of Season 2 (why stretch what can be told in 4-5 episodes to 7?).
For those out there craving to know what's new this time around, crave no more. There is the talented Ishwak Singh as a chef in a restaurant imaginatively know as 'The Kitchen' who is interested in Tara who is going through the messiest divorce since Jeff Bezos and MacKenzie Scott.
Tara wants half her husband's business empire.
Adil Khanna(Jim Sarbh) is aghast. "Why the fuck should I give you half my business? My father built it brick by brick." I think Adil has a point, a point of no returns, one may call it.
Everyone sees relationships in this series as an investment. Everyone seems to be getting married for the wrong reasons. In the weakest episode, directed by the brilliant Neeraj Ghaiwan, Neelam who is married to Sanjay Kapoor (our sympathies) loves Sameer Soni who is married to a lovely woman who has the best moment in the series after her husband elopes with her daughter's future father-in-law.
No, it is not as complicated as it sounds. These are people who like to create their own problems since they have nothing really important to worry about. My favourite character this season is Mona Singh as the new auditor who is brought in to make the numbers add up for the wedding planners. Quite like Mona Singh who is roped in to liven up the series.
Not that Made In Heaven 2 is lacking in areas of interest. The characters, though insulated from reality, are ceaselessly sassy. And they are always surprising us with their capacity to plummet to new lows of immorality.