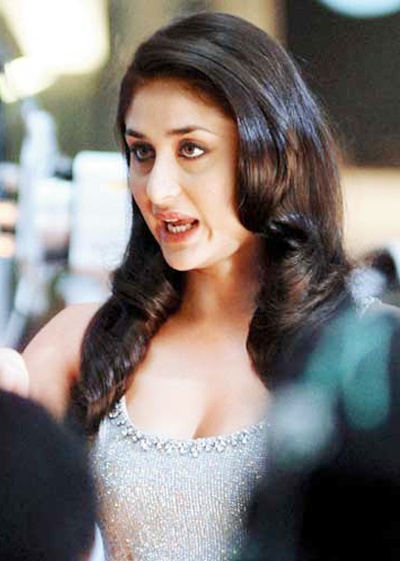 Although it had some ups and downs getting to the floor, it certainly seems as if the Heroine shoot is going really well. They have just completed their second schedule and director Madhur Bhandarkar and star Kareena Kapoor seem to be really happy with the way things are shaping up. In fact, both have said they feel this film is going to be a very memorable film.
There have been many rumors that the story of Heroine is based on this actress or that actress, but in fact it is not based on anyone's life it is more of a study of the film industry and the life and career of a star. Madhur explained to The Hindu, "It is a contemporary tale of a bright, ambitious lady who seeks a career in filmdom. She struggles, works hard and ultimately becomes a superstar."
Adding, "Heroine does not paint a rosy picture of stardom. It is realistic and captures all the colours that exist in the world of cinema, providing an insight into its day-to-day functioning."
Talking about Heroine, Kareena told TOI she is enjoying sinking her teeth in such a layered role, "It's good to be doing a woman-centric film. It's fun to sink your teeth into the character. Even though I love working with my Khans, I'm glad I have a film like this. I think Heroine was just destined to be mine."
In an earlier interview Kareena told us, "I don't prepare too much. It's more like I rely a lot on my instinct and spontaneity because that's the way I am as a person. My reactions are quite instinctive and very, very spontaneous. I think that is something that I rely on more than preparation as an actor." And it seems once again she is working that way to approach the character of Mahi in Heroine. Talking to Mail Today she explained, "Heroine is a film where the camera is constantly tracking the mind and heart of a super successful actress named Mahi Arora, who is on the edge. On the sets, I take the simplest route of putting myself in the shoes of Mahi and let the camera catch my reactions."
"I am not a method actor, but I give enough thought about the way a character would look, talk and cry on screen. In Heroine, the most important thing was to present the story of Mahi's mind authentically and this could happen only on the sets. For instance, there's a scene where Mahi gets to know that her lover is cheating on her. I thought of how a superstar like her, who is suffering from insecurity, would react at that point," she added
Though she has enjoyed the challenge she does say that "the film has been an emotionally draining experience".
As for the director, he is full of praise for his Heroine, "Kareena is photogenic, emotes effortlessly and has a brilliant sense of timing. I am sure Heroine will be her most memorable performance."