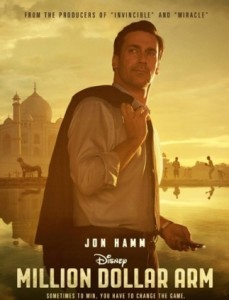 The London Indian Film Festival (LIFF, July 10-17) and The Walt Disney Company are delighted to announce that Madhur Mittal, the star of Million Dollar Arm, will participate in an exclusive Q&A alongside producer Mark Ciardi at the film's UK Premiere at Cineworld Shaftesbury Avenue on July 14. Million Dollar Arm, which also stars Jon Hamm, Suraj Sharma, Lake Bell, Alan Arkin, Bill Paxton is the London Indian Film Festival's Centrepiece Gala.
Madhur Mittal's breakthrough role was in Danny Boyle's multiple BAFTA, Golden Globe and Oscar winning Slumdog Millionaire and thereafter he made a mark in Treasure Island.
The multi-talented Mark Ciardi is a producer whose credits include Invincible, Tooth Fairy, The Game Plan and Secretariat, The Rookie, Me, Myself & Irene and Fever Pitch.
Now in its fifth year, the London Indian Film Festival is the largest South Asian film festival in Europe. The festival opens with Sold, starring Gillian Anderson, on July 10 and closes with Hemalkasa, starring Nana Patekar, on July 17.
London Indian Film Festival Director Cary Rajinder Sawhney says, "We are delighted to have Disney's Million Dollar Arm at the heart of the festival, the film has loads of energy with a huge feel-good factor. Some great performances by young men Suraj Sharma and Madhur Mittal and of course Jon Hamm is a definite attraction."
Million Dollar Arm premieres at the Cineworld Shaftesbury Avenue on July 14 at 6:15 PM and will be followed by a Q&A with Madhur Mittal and Mark Ciardi.
Based on an inspirational true story, Million Dollar Arm is a funny and uplifting journey. US sports agent JB Bernstein (Jon Hamm) travels to India in an effort to save his career by finding a young cricketer to turn into a baseball star. With the help of a retired scout (Alan Arkin) JB sets up a talent contest "The Million Dollar Arm", discovering Rinku (Life of Pi's Suraj Sharma) and Dinesh (Slumdog Millionaire's Madhur Mittal) who have a knack for throwing a fastball. Hoping to make a quick buck he brings them to LA to train, but the boys struggle to adjust. His livelihood on the line and relationship with the boys at stake, with the help of his friend Brenda (Lake Bell) JB realises that family and friendships are more important than sealing the deal. The film features a brilliant score from Oscar, BAFTA and Grammy winning Indian composer A.R. Rahman. MILLION DOLLAR ARM is released in cinemas August 29.
To find out more and get tickets: http://www.cineworld.co.uk/whatson/million-dollar-arm-liff-centrepiece-gala