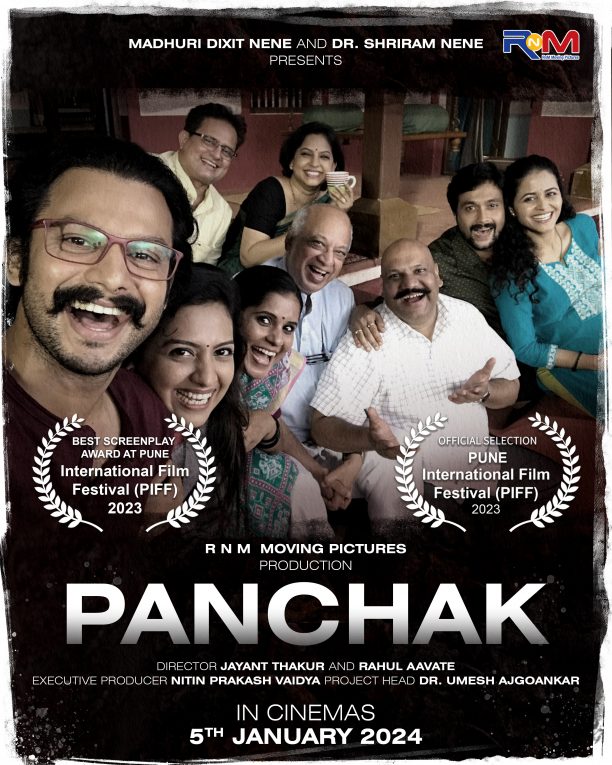 Madhuri Dixit and Dr. Shriram Nene's RNM Moving Pictures is all set to release their much-awaited Marathi film 'Panchak' on 5th January 2024. Directed by Jayant Jathar and Rahul Awate, the film received a standing ovation at the Pune International Film Festival (PIFF).
This film marks the second production of RNM Moving Pictures after 15th August, which was released directly on OTT and received rave reviews. 'Panchak', shot in Konkan, is a dark comedy that deals with the fear of superstition and death. The film features an ensemble cast of the finest artistes from the Marathi film and television industry, and theatre, and is shot in picturesque Konkan.
Talking about the same, co-founders of RNM Moving Pictures Madhuri Dixit and Dr. Shriram Nene said, "The idea of Panchak is very simple. Superstitions can overwhelm us, and drive us to unreasonable fear, putting us in absurd situations. We are very excited about producing this movie and have worked hard to assemble an outstanding cast and crew and will hopefully give audiences a much-needed dose of humour. We can't wait to showcase the film to the audiences."
Produced by RNM Moving Pictures, 'Panchak' is directed by Jayant Jathar and Rahul Awate. Starring Adinath Kothare, Tejashri Pradhan, Anand Ingale, Nandita Patkar, Bharati Acharekar, Vidyadhar Joshi, Satish Alekar, Sagar Talashikar, Dipti Devi, Ashish Kulkarni, and Dilip Prabhavalkar the film is set to release on 5th January 2024.