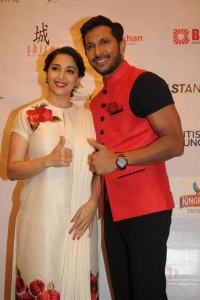 The summer of 2015 kick started with dance as 'Jugnee' – the first Contemporary Dance Festival of Mumbai, unveiled by dancing Diva Madhuri Dixit and Terence Lewis totally rocked the city!
3 top venues, workshops by some of the finest International & National faculty, performances by the country's leading Dance Companies among other highlights propelled 'Jugnee' as a chart topper in the world of contemporary dance!
The foreign partner Impulstanz – the world's largest Annual International Dance Festival in Vienna which is in its 30th year along with Terence Lewis awarded a fully funded scholarship to Rahul Goswami from India. After an all India search for the best emerging dance artiste and from amongst 400 final contenders who attended the 'Jugnee' workshops Rahul Goswami was handpicked by an international panel – Joe Alegado (USA), Peter Jason (Slovakia) along with Terence Lewis. He is to be awarded the prestigious Impulstanz Scholarship, fully funded by Impulstanz and Terence Lewis. The Scholarship offers the chance of a lifetime to train intensively with 110 teachers, choreographers, work with 120 participating countries, witness performances by the world's best companies, and learn a plethora of dance styles.
Impulstanz Scholarship is a veritable Mecca for dancers who are selected from the list of most promising young dancers of 'Jugnee' 2015, to train and experience Impulstanz 2015 in Vienna.
'Jugnee' …The experience continues…