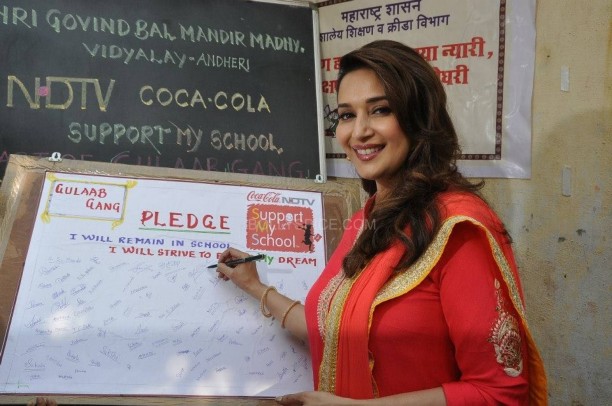 Madhuri Dixit visited Shri Govind Bal Mandir School in Andheri on February 24th with the cast of her upcoming film – Gulaab Gang in support of the Support My School campaign. Also there were producer Anubhav Sinha and director Soumik Sen. The film, which has been making waves with its promos has a strong underlying theme of women empowerment and the role education plays in it. Bringing the cause of girl child education to the forefront, the cast interacted with students on the importance of education for girls to earn a place for themselves within the society.
The visit was part of the Support My School campaign which focuses on revitalizing schools in rural and semi- urban areas with provision of basic facilities such as safe drinking water, separate toilets for boys and girls, libraries and promotion of physical sports. Lack of amenities such as hygienic sanitation has been a major cause for dropouts amongst female students at the incidence of puberty.
The cast pledged to support the cause of the campaign which has been creating holistic learning environments for students in rural and semi-urban schools to enable them to continue studies, with a special focus on the girl child.
Actress Madhuri Dixit-Nene said, "As an actress who has worked in this industry for 3 decades now, I have been fortunate to represent many facets of womanhood through my roles. In Gulaab Gang, we are seeing a whole new face of the woman. The film speaks out on how important it is for every girl to get education to be able to make something of herself and earn the respect she deserves. I want to congratulate Coca-Cola India and all the other partners who have championed Support My School to encourage these girls to stay in school! We need such initiatives in this country."
The visit was enabled, facilitated and coordinated by Bottomline Media Pvt. Ltd who was instrumental in making this association happen. Ms. Tanaaz Bhatia, Managing Director of Bottomline Media Pvt. Ltd. said, "It gives us great pleasure to contribute towards the Support My School campaign. Educating the girl child is such an important endeavor and we are all glad to be able to partner with Coca-Cola and do our bit towards this. Gulaab Gang is a movie that speaks out on the cause of women empowerment and the role education plays in this."
Anubhav Sinha said, "We are all proud to be associated with Gulaab Gang, a film that truly resonates with the spirit of the Indian woman. The movie talks about educating girls to help them build a future for themselves, and how often socio-economic reasons prevent this. It is at this basic level of primary education where every impetus is needed to keep girls in school. Sanitation has always been highlighted as a major cause for girl dropouts in rural schools. Coca-Cola and campaign partners have taken up a worthy cause with Support My School which focuses on such basic issues. I am confident this will give a boost to girl child education in the country."
Director Soumik Sen wrote on Facebook after the event, "A fantastic morning at Shri Govind Bal Mandir with Team Gulaab Gang live and unplugged. And cheers, laughs and talent on display. Memorable. The initiative is to create awareness especially about the lack of toilets in more than 50% of schools in rural India, one of the reasons for girl child dropout rates escalating after puberty. Thanks to Coca Cola India and NDTV for inviting team Gulaab Gang."
Check out these pictures from the event:

The Support My School campaign was launched in January, 2011 post the findings of a study on rural and semi-urban schools which highlighted marked absenteeism and dropout amongst female students at the incidence of puberty, due to lack of basic sanitation facilities in their schools. Support My School is a campaign which has recognized this fundamental yet crucial gap and helps bridge it by creating a holistic learning environment for the girl child to continue to study and find her rightful place with dignity and equality.
About Support My School
Coca-Cola joined hands with NDTV to launch Support My School in association with UN-Habitat, Charities Aid Foundation (CAF), Pearson Foundation and Tata Teleservices. It undertakes the following core activities: Provision of improved access to water, Appropriate sanitation facility for girls and boys, Improvement in the overall infrastructure and environment, Provision for sports and recreation facilities, Recharging groundwater through rainwater harvesting, Libraries and Teacher Training by Pearson Foundation and Computer Center by Tata Teleservices.
With such necessary amenities in place, schools are able to provide a cleaner and healthier environment more conducive to learning.
Education in rural India suffers from several issues where lack of sanitation is a key reason for absenteeism and dropouts amongst students. This is especially noted in young girls who are forced to quit as they enter adolescence due to a lack of clean and functional toilets. Children are also likely to fall sick more often without clean water to drink or to wash hands. Support My School endeavours to eliminate this basic concern by spreading the initiative across the country with the help of campaign partners to execute the same.