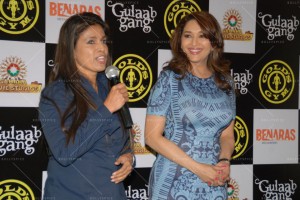 With Women's day around the corner, the ever fit and ever gorgeous Madhuri Dixit gave tips to women on getting fit and strong.
The Bollyood diva highlighted the importance of fitness and also encouraged women to gear up and fight against crime. The actor shared her experience in training for her upcoming film – Gulaab Gang. Madhuri has been trained by Shifu Kanishka, who with his immense knowledge of the martial arts. The ace trainer gave tips on women empowerment and demonstrated how women can defend themselves with some very simple moves along with Gold's Gym trainer Sunil Haryan.
Welcoming them and encouraging women to get fit was VP Marketing Gold's Gym Althea Shah who encouraged Madhuri Dixit to show some moves herself. Women members from across Mumbai witnessed the occasion and got a chance to meet Madhuri at the special event at Gold's Gym, Bandra.
Also present was CEO Sahara Movie Studios Mr. Sandeep Bhargava who along with Madhuri presented all women with special edition Gulaab gang pepper sprays.