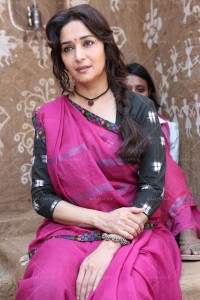 Madhuri Dixit, who has been busy promoting Gulaab Gang, a film with the powerful message of 'women empowerment', strongly feels about the cause. To reach out to her audience with this message, the actor participated today in a Live Video Chat, where she and director Soumik Sen spoke about the cause, with poems. The beautiful evening saw the powerful recitation of some of the most timeless poems by Madhuri Dixit. The director and the gorgeous actor also answered questions asked by the online viewers.
Director Soumik Sen revealed how the idea of getting Madhuri to recite these poems, excited him. "While shooting for the film, I had shortlisted 3 poems on women empowerment which I thought Madhuriwould like to read. When I handed over these poems to her, she started to read them and being the actor she is, her reading the lines looked like an expressive narration. That is when I thought of shooting the videos. The poems we chose are already a part of our history. With Madhuri's help we could reach out to more people and introduce them to these inspiring words of the legendary poets."
The makers of the film have released three videos featuring Madhuri Dixit reciting poems written by renowned poets like the popular Urdu poet Sahir Ludhianvi, Dushyant Kumar the poet of modern Hindustani literature and the radical bihari poet, Gorakh Pandey.
The poems can be viewed at these links below:
–> http://bit.ly/KavyaMadhuriPart3 – By Gorakh Pandey
–> http://bit.ly/KavyaMadhuriPart2 – By Sahir
–> http://bit.ly/KavyaMadhuriPart1 – By Dushyant
Directed by Soumik Sen, the movie is based on women empowerment. Produced by Anubhav Sinha, Gulaab Gang is presented by Sahara Movie Studios & Bharat Shah and is a Benaras Mediaworks production. The film is slated to release on the 7th of March.