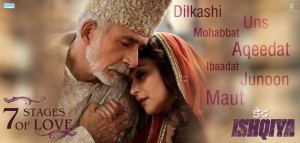 We've already seen the spicy trailer for Dedh Ishqiya and can see the explosive chemistry between the dynamic actors, but Madhuri Dixit too, confessed, "I found his (Naseeruddin Shah) eyes very intense. Whenever I did intense scenes with him, I used to get very shy. This is the first time I found myself in such a situation."
She went on to say, "When you are with him, you don't have to act, you just have to react. He is such a natural actor."
The last time we saw Madhuri on screen was for the song 'Ghagra' in Yeh Jawaani Hai Deewani but it was back in 2007 when we last saw her in a fully fledged lead role in Aaja Nachle.
The Abhishek Chaubhey directed Dedh Ishqiya stars Madhuri, Naseerudin Shah, Arshad Warsi and Huma Qureshi in the lead roles. In Ishqiya, we saw the powerful Vidya Balan as the lead female. When asked why she was not asked to do Dedh Ishqiya, Chaubey said, "We couldn't take her character ahead as we had nothing to offer. So, we thought we could take ahead the story of two men and how they fall in love with someone else." In Dedh Ishqiya, Madhuri plays Begum Para, an attractive yet dangerous woman.
Aside from her appearance opposite Naseerudin Shah, Madhuri is also excited about the song choreographed by Remo D'Souza. She said, "There are two dance numbers in the film and both the songs are sung by Rekha Bhardwaj. Birju Maharaj has choreographed one song and the other is by Remo. I am very excited about Remo's song as it's very unlike Remo style. He has done a good job."
Here's the trailer if you haven't already caught it!