By Christina Hunter and Stacey Yount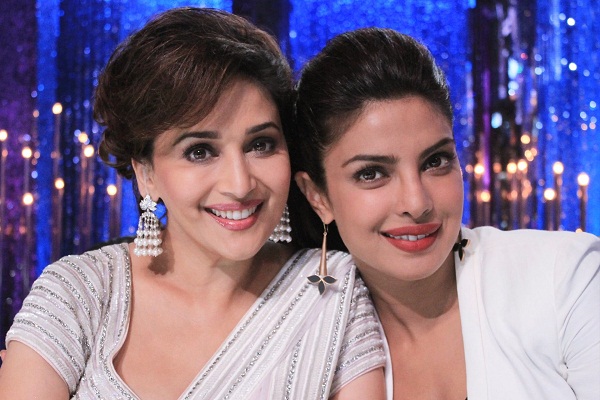 As you probably have seen Priyanka Chopra is developing a new sitcom for ABC. But wait there's more – in case you missed it. The sitcom will be based on the living Bollywood legend Madhuri Dixit.
Dixit began enchanting India in the early 80's with her breakout role as Gauri in Hiren Nag's Abodh. Since her debut she has captured audience with her grace, beauty, and dance which earned her the name "Dhak Dhak girl." Like most heroines Dixit found her Hero in Los Angeles based cardiovascular surgeon Sriram Nene. Following the couples nuptials Dixit took a five year hiatus from the film industry.
Chopra's sitcom will highlight the time Dixit lived with her family in Denver, Colorado from 2002-2007. With Dixit and Nene co-producing the sitcom audiences have a lot to look forward to watching how a living legend lived unnoticed among us. No date has been set when the show will hit the floors.
Madhuri Dixit says, "We are very excited to co-produce with Priyanka, Mark Gordon Productions and ABC on the new series inspired by my life in the US."
In June, Madhuri Dixit Nene left for the U.S. for a family vacation. While on holiday, she dropped hints on her social media about some upcoming announcements. Fans waited with bated breath and it now turns out that la Dixit was working during her holiday putting a show together for ABC, which culminated a year's work.
Revealing more details how the project came to be, Madhuri says, "I was pleasantly surprised in the summer of 2016 when Sri (Rao) said he wanted to do a series inspired by my life in America. As Ram and I chatted with Sri, the story evolved and Mark Gordon Productions came on board, wanting to produce it. Bringing on Priyanka was perfect in that she had experience with the landscape."
The show was subsequently pitched and picked up by the ABC network and is being developed for the US and international markets.
We are also very excited about this new show and can't wait to find out more and especially to see it! Watch this space because you can be sure we will be bringing you all the news!