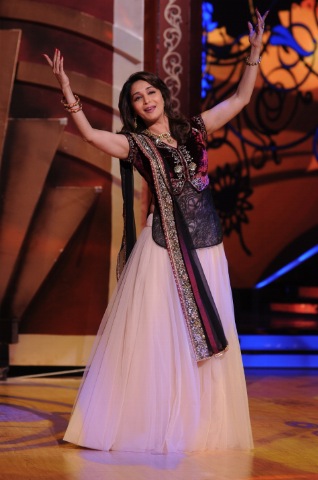 Yes, you read that title right. Madhuri will be dancing steps by the great Saroj Khan again! After a gap of 10 years, the 90's superhit jodi of Madhuri Dixit and Saroj Khan, are back together for Gulab Gang – a film directed by Soumik Sen, produced by Anubhav Sinha and under the banner of Benaras Media.
Saroj and Madhuri have a golden association where they have given several chartbuster songs together. Their association dates back to 1988 blockbuster Tezaab's 'Ek Do Teen'. The duo last worked together in Sanjay Leela Bhansali's Devdas (2002).
It was producer Anubhav Sinha who suggested bringing the two divas together for a special song in the film. "I remember Sarojji showing the steps to Madhuri, who would perform them with such ease and grace as if she had done them before," he says.
"Every Madhuri dance number has always set a new benchmark, that's our intention too. Madhuri feels that Sarojji is immaculate with details and ensures that the facial expressions are in perfect sync with the mood of the song and the character," says the excited director Soumik Sen.
So now we have even more of a reason to be excited about Gulab Gang. The film will go to the floor in October and you can be sure we will be bringing you all the exclusive scoop!