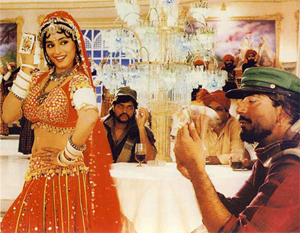 'Choli Ke Peeche Kya Hai' has beaten off stiff competition from some of the most sizzling songs, to win the 'hottest song from the last one hundred years of Indian cinema' poll conducted by Sanona.com™, Bollywood Pay-Per-View movie streaming portal.
Madhuri Dixit's song beat modern favourite Katrina Kaif's sultry turn in 'Sheila Ki Jawani' from Farah Khan's Tees Maar Khan (2010) and the legendary dancer Helen's sultry 'Yeh Mera Dil' from Don (1978). Both songs were a super hit at their time of release, and continue to be played at weddings, birthday parties, and nightclubs across the globe.
The once controversial song from director Subhash Ghai's 1993 action thriller, Khal Nayak, was voted number one in a hottest Bollywood song choice poll that was conducted across social networking sites like Facebook and Twitter as part of Sanona's celebration of the industry's landmark anniversary.
Bobby Friction, BBC Asian Network says "Choli Ke Peeche is an unrivalled song & moment in Bollywood history.  The track stands out as the very essence of everything Bollywood is sonically & musically & is without any doubt is THE template for everything's that's happened in the industry afterwards.  Its fair to say when the word Bollywood is mentioned in years to come the image used to illustrate it will always be Madhuri Dixit as picturized in this song."
During its one hundred years Indian cinema has seen and heard hundreds of thousands of foot tapping songs. While many are created to stir emotions and feelings of romantic love, others have been designed to set the heart on fire.
Sung by playback queens, Alka Yagnik and Ila Arun, 'Choli Ke Peeche Kya Hai' became an instant classic. This saucy number composed by Laxmikant-Pyarelal was the subject of huge controversy in India after the film's release for its double-meaning lyrics by Anand Bakshi which was defended by the filmmakers as being based on a traditional folk song. 
In the picturisation, an older woman (Neena Gupta) repeatedly asks: "What's underneath that blouse?"  To which the younger sexy female dancer (Dixit) cheekily replies: 'My heart!'
Anil Sinanan, Time Out London's Bollywood Film critic explains why this sassy remark caused a furore in India. "Since everyone knew exactly what was really beneath the blouse, this caused a sensation at the time. It sparked the national debate: was it vulgar or sensuous? Ultimately, most agreed it was the latter due to Saroj Khan's clever choreography which pushed but never crossed the line of decency. It probably sparked off the trend which has continued to this day of big stars doing 'item' numbers in films. Forget all the subsequent Sheila's and Chameli's, this is the real thing which has not been bettered subsequently."       
Dixit's performance as a police officer, alongside Sanjay Dutt and Jackie Shroff, earned her a sixth nomination for the Filmfare Best Actress Award and saw Khal Nayak become the year's second highest grossing film.
London and Mumbai based Bollywood dancer/choreographer, Karan Pangali, a former finalist in Hritik Roshan's hit television show, Just Dance, believes the musical innovations in Bollywood are second to none. "The glamour, energy and expression of both the audio visual is what sets pulses racing in Hindi cinema. All three of those item songs [topping the poll] exemplify these attributes and the power of dance. I have choreographed these songs for KSPARK stage productions and they always leave audiences worldwide craving more."