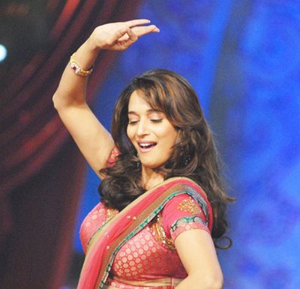 Prabhu Deva, the God of dance, recalls his years spent in Bollywood and his first hit, which he says is Que Sera Sera from Boney Kapoor's Pukaar. "I had been choreographing for 12 years before I did Que Sera Sera and I did it because of my rapport with Boney Kapoor and more importantly because it had Madhuri. She is excellent!"
"When Madhuri is dancing, it is as amazing as fire and lightning together. When I met her to start rehearsals for the song, I realized that every bit about her is so true! She is a dedicated and hardworking person and a commendable dancer. The beats of the song were tricky as of course it was AR Rahman's composition, but that did not move her at all," he exclaimed. He also said that many a times actresses tell him to go easy on the steps, but Madhuri did no such thing and did not want any changes in the choreography. "She said to me that she will do 40-50 rehearsals and whatever it takes to put this together. It is not surprising that she took even lesser rehearsals and outdid me," he added.
If it is Prabhu Deva choreography, the steps cannot be Michael Jackson free. He did the famous moonwalk, and Madhuri aced that too. "We never knew it will be such a rage. Unfortunately, I could not enjoy its success as there was a sudden demand for the two of us to perform on stage and I was not around then. But we performed it together on stage years later, and both of us had not forgotten a single step," he said.
Prabhu Deva says the credit of the song goes to AR Rahman, who composed the song with a unique rhythm. "The beats were a challenge for me to place dance steps in. This song brought me success in Bollywood and also a friend, Boney Kapoor. I knew him since I had started doing this rain song for Sridevi in 'Roop ki Raani Choron ka Raja', which I had to sadly leave within 7 days of shooting," he said.
Prabhu Deva will be seen next in India's first 3D dance film ABCD-Any Body Can Dance directed by Remo D'souza.